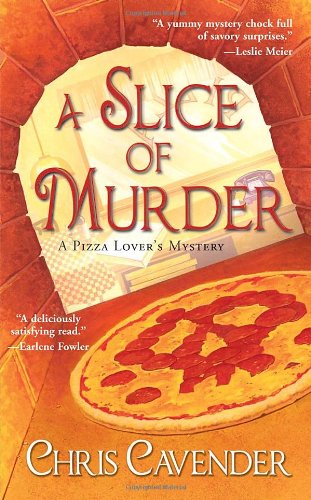 Publisher's Note:
Not too much happens in the sleepy little town of Timber Ridge, North Carolina - which is fine with pizza-purveyor extraordinaire Eleanor Swift. The spunky owner of A Slice of Delight is trying to mend her broken heart and could use a little quiet time. But when a late night delivery customer turns up dead, she's in for just the opposite in this delicious mystery series debut, featuring pizza as the prima character.
A Slice of Murder
by Chris Cavender
Overall Review:
Ever read a foodie mystery? If so, then nothing in A Slice of Murder will be surprising: formulaic, typical and not terribly exciting. The main characters seem to be just like those of most other mysteries of this genre. There is a small town setting in which two sisters share good-natured banter as the woman accused of murder wants to solve the case and absolve herself. The writing itself was readable, but not outstanding or unique. Most of the characters came across flat or annoying. Additionally, the fact that the main character was widowed several years ago and was still missing her husband felt forced and overdone, rather than part of the natural grieving process. Not a bad book, just not great.
Content Analysis:
Profanity/Language: None
Violence/Gore: Character found dead, blood mentioned; characters threaten to kill or hurt others; characters shoot at others; characters hit others both with hands and objects; character stabs another with a knife, blood described as oozing and dripping.
Sex/Nudity: Non-married characters kiss; multiple mention of married character being in bed with a non-married character, no detail and events were reported rather than witnessed.
Mature Subject Matter:
Death of spouse, murder, adultery, blackmail, greed.
Alcohol / Drug Use:
Character drunk; characters reported going out drinking; character addicted to pain killers.
Reviewed By Susan