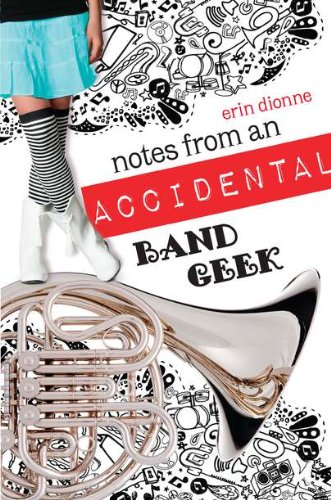 Publisher's Note:
Elsie Wyatt is a born French horn player, just like her father and her grandfather before her. In order to qualify for the prestigious summer music camp of her dreams, she must expand her musical horizons and join - gasp! - the marching band. There are no French horns in marching band (what the heck is a mellophone??), but there are some cute boys. And marching band is very different from orchestra: they march, they chant, they . . . cluck? Elsie is not so sure she'll survive, but the new friends she's making and the actual fun she's having will force her to question her dad's expectations and her own musical priorities.
Notes From An Accidental Band Geek
by Erin Dionne
Overall Review:
Erin Dionne does an excellent job of immersing the reader in the weird world of marching band and sharing all the wonderful aspects--the culture, the camaraderie, the music, the performances, the friends, the bus rides, the polyester. However, this book is about more than marching band, it is about a freshman girl, Elsie. Ms. Dionne didn't fall back on stereo types and cookie-cutter characters, but gave us someone fresh. Elsie is great with a horn, but with people?--Not so much. Elsie is absorbed in herself and her music and is oblivious to how she makes other people feel.
If you never had the chance to experience marching band, Notes From An Accidental Band Geek is your big chance. If you have been in a marching band, regardless of your age, pick up a copy of this book and be prepared for a little nostalgia. As a former band geek to another, Ms. Dionne, "You soooo know what you are talking about."
Content Analysis:
Profanity/Language: None
Violence/Gore: An accident occurs with unspecified injuries.
Sex/Nudity: Characters "like" other characters and think they are cute; characters hold hands and briefly kiss a few times.
Mature Subject Matter:
***
Alcohol / Drug Use:
***
Reviewed By Cindy