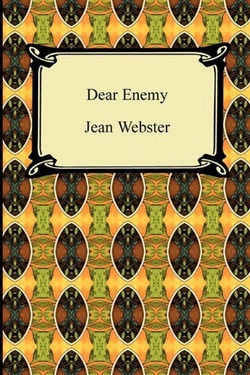 Publisher's Note:
In this sequel to "Daddy-Long-Legs", Judy and Jervis Pendleton appoint lively, red-headed Sallie McBride as Superintendent of the John Grier Orphan Asylum. Her clashes with Dr. Sandy MacRae (her "dear enemy") are both hilarious and appealing.
Dear Enemy
by Jean Webster
Overall Review:
Sallie McBride is a society girl through and through. Then she receives a letter from her dear friend Judy Pendleton (aka Jerusha Abbot from 'Daddy-Long-Legs') asking her to be the new superintendent for the John Grier Home. She's perfect for the job. Persistent, headstrong, and full of love and ideas, she turns the entire establishment upside-down and brings happiness and life to scores of orphans! I love Dear Enemy for its simple complexity. This novel is a companion to Daddy-Long-Legs and, just as its predecessor, is written entirely in letter form. All the letters are from one person, but this time they are addressed to varied characters. There is a depth to the method of writing to more than one person—you sometimes hear many different sides of the same story, or hear details that are omitted to someone else, but on all accounts you grow to love the characters even more. Sallie is pert (at times impertinent), witty and cheerful; In a word, her character is marvelous. She develops over time from the superficial society lady to a strong leader full of depth and courage. The makeover of the JGH is absolutely fascinating! Sallie's ideas are perfect and make you want to emulate them in your own home! She understands children and loves them. I love those little ones and their antics; such fun personalities that shine through the pages. The romance is sweet and deep without going over the top! Another fantastic classic that deserves to be read!
Content Analysis:
Some of the themes of this book are, of course, a little dated. There are dealings with lunacy, illegitimacy, genetics, etc., and sometimes the way they are flippantly described seems a little calloused. But if you remember this was written almost 100 years ago, and that's the way it was done, it becomes more of a history lesson. None of it is shocking or gruesome, though, and I never once felt uncomfortable. There are a handful of swear words—one little orphan is always in trouble and is quoted a few times, along with an angry farmer and an upset politician. But there are probably less than 10 words in the whole book.
Mature Subject Matter:
***
Alcohol / Drug Use:
***
Reviewed By Emily