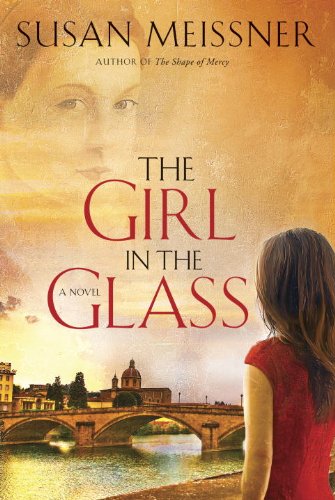 Publisher's Note:
Renaissance is a word with hope infused in every letter.

Since she was a child, Meg has dreamed of taking a promised trip to Florence, Italy, and being able to finally step into the place captured in a picture at her grandmother's house. But after her grandmother passes away and it falls to her less-than-reliable father to take her instead, Meg's long-anticipated travel plans seem permanently on hold.

When her dad finally tells Meg to book the trip, she prays that the experience will heal the fissures left on her life by her parents' divorce. But when Meg arrives in Florence, her father is nowhere to be found, leaving aspiring memoir-writer Sophia Borelli to introduce Meg to the rich beauty of the ancient city. Sofia claims to be one of the last surviving members of the Medici family and that a long-ago Medici princess, Nora Orsini, communicates with her from within the great masterpieces of the Italian Renaissance.

When Sophia, Meg, and Nora's stories intersect, their lives will be indelibly changed as they each answer the question: What if renaissance isn't just a word? What if that's what happens when you dare to believe that what is isn't what has to be?
This book was sent to Compass Book Ratings for review by Waterbrook Press
The Girl in the Glass
by Susan Meissner
Overall Review:
Italy. The mere mention of the name invokes images and feelings, even for those of us who have never been there. The focus of The Girl in the Glass is Florence, Italy, a place full of magnificent art and architecture and the home to many of the great artists and architects of the past.
Having read a few of Susan Meissner's books previously, before you even open the first page you can count on two things: First, there will be two points of view in alternating chapters, one modern and one historical. Their stories will intertwine and relate somehow. And the second: You can count on the fact that it will be a phenomenal read! The author is a talented storyteller.
This story is about Meg, an editor for a travel book publishing company in California, and Nora Orsini, a member of the Medici family, the Italian aristocracy.
Meg has wanted to go to Florence all her life, ever since she was a small girl and gazed upon the picture of a statue in her Nonna's house. When she finally gets to go, it is definitely not in the way she had imagined and she has surprises and hurdles all along the way. In the end, however, she sees the best of Florence and in the best way possible and with people who become dear to her, and discovers an inner strength she didn't know she possessed.
Nora is a Medici, one of the oldest and most prominent families in Florence. Her story is told heartbreakingly as she grows amidst despair and loss, while learning life lessons and gaining a perspective about who she is.
The images are superb. After finishing, I honestly felt like I had just visited Florence with the best tour guide money could buy. The thoughts are deep and personal--while reading this book you can't help but look inside yourself in deep introspection.
The Girl in the Glass is about discovery. Discovery of a place you love, discovery of a people, discovery of yourself and the strength that lies within. But who is the girl in the glass? The answer may surprise you.
Content Analysis:
Profanity/Language: 4 religious exclamations, 1 mild obscenity.
Violence/Gore: There are a few depictions of violent scenes in famous paintings. Second hand reports of a character and her mother beaten by her father; the assassination of an historical figure; characters murdered by spouses (one is shot, the other strangled); many characters dying from illness and other natural means.
Sex/Nudity: A few kisses (both greetings and other); a character puts his arm around another and often hold hands; a mention of The David statue (he 'hadn't a stitch of clothes on'); Several references to characters having affairs and being unfaithful; a character is said to have visited brothels; a character discovers her husband is already married to someone else.
Mature Subject Matter:
Death of family members, Divorce, Marriage Infidelity, Abandonment, Miscarriage, Murder, Mental Illness
Alcohol / Drug Use:
Characters often drink wine.
Reviewed By Emily