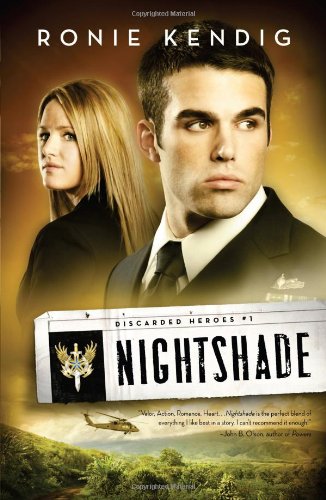 Publisher's Note:
Soldiers all across the globe are returning home to their families after brutal tours of duty. They are discharged from the service. . .and on their own. Meet Max Jacobs, one of these discarded heroes, as he faces a wall of failure—in his career, his friendships, and his marriage. Failing again—this time to end his life—he is offered a thread of hope. Are covert government operations the answer for him, or will they only bring more danger and dissension upon his broken family?
Nightshade
by Ronie Kendig
Overall Review:
Not for the faint of heart, this story offers some interesting insights into the minds and emotions of our nation's military forces. The author changes the narrator of the book multiple times per chapter, but it is done in a clear and easy to follow manner. Drawn into the emotional stresses and joys of each character, readers will be silently cheering and crying right along with the fictional cast.
The events unfolding in this story take readers all around the globe and give people a front row seat into the world of terrorism and cruelty. While Kendig deals with very horrifying and intense situations, she does not overload the book with graphic details, but rather provides just enough detail to produce heart-wrenching emotion, outrage and empathy.
Nightshade is the first book of the Discarded Heroes series and based on this first installment, subsequent books are bound to be intense and intriguing.
Content Analysis:
Profanity/Language: None
Violence/Gore: Characters attempt or contemplate suicide; characters threaten others with knives, guns, machetes or physical harm, one scene is two pages; reports of mass killings by bombs, grenades, and guns; characters threaten to kill one another; characters reported murdered by multiple means including gunshots and decapitation, no graphic details; characters die from gunshot wounds, grenades, physical abuse and explosions, brief mentions of blood from wounds; many intense scenes as characters attempt to avoid detection by others.
Sex/Nudity: Married and non-married characters embrace, kiss, hold hands and put arms around waists; non-married characters kiss, embrace and caress face of married character; mention of waking up in bed with a person the character didn't know; character reported raped in past, no details provided.
Mature Subject Matter:
Guerilla warfare, suicide, physical and sexual abuse, death of family member, abandonment, divorce.
Alcohol / Drug Use:
Character used to "hit the bottle."
Reviewed By Susan