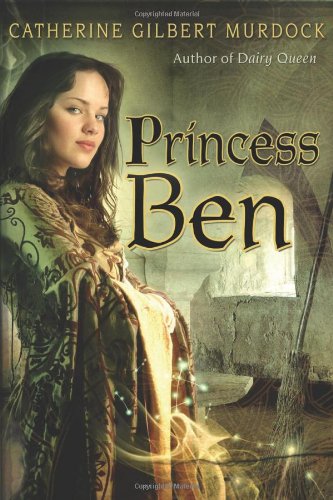 Publisher's Note:
Benevolence is not your typical princess and Princess Ben is certainly not your typical fairy tale. With her parents lost to unknown assassins, Princess Ben ends up under the thumb of the conniving Queen Sophia, who is intent on marrying her off to the first available "specimen of imbecilic manhood." Starved and miserable, locked in the castle's highest tower, Ben stumbles upon a mysterious enchanted room. So begins her secret education in the magical arts: mastering an obstinate flying broomstick, furtively emptying the castle pantries, setting her hair on fire . . . But Ben's private adventures are soon overwhelmed by a mortal threat facing the castle and indeed the entire country. Can Princess Ben save her kingdom from annihilation and herself from permanent enslavement?
Princess Ben
by Catherine Gilbert Murdock
Overall Review:
I love when the building blocks of a novel--plot, pacing, and characterization--come together so seamlessly as to be invisible, leaving only the story to be enjoyed by all who read it. Catherine Gilbert Murdock has accomplished such a feat in her off-beat fairy tale, Princess Ben.
Princess Benevolence is not your average stunningly beautiful, yet sweet young royal. She is spunky, disobedient, and tends to enjoy one too many strawberry tarts with her dinner, meaning that she is a great disappointment to her aunt, Queen Sophia.
A bit of a whodunit mystery surrounding the death of her parents stays in the background as Ben strives to overcome her grief and figure out how to live up to the expectations of her noble calling as future leader of Montagne.
Murdock's characters set a logical and realistic tone in a fantasy world that gives the story a depth that is very enjoyable to the reader. One cares what happens to Ben and her kingdom as a neighboring kingdom plots a takeover. Imbued with magic, Princess Ben is a treasure.
For readers who enjoy Princess Ben, there is a second book entiled Wisdom's Kiss, featuring Benevolence many years older. I wouldn't call it a sequel, nor has anyone else as far as I can tell, because Ben has only a supporting role, as Wisdom's grandmother, in that novel and each book can stand alone.
Content Analysis:
Profanity/Language: 1 mild obscenity
Violence/Gore: Death by blade and poison is reported second hand; slapping is twice mentioned as a punishment of a teen; a scene describing punishment with a leather strap to the palm and knuckles of youth's hand; one incident of fantasy violence; one injury by arrow is described.
Sex/Nudity: One scene in which a couple of lewd comments are made; one character kisses another character.
Mature Subject Matter:
Death of a family member.
Alcohol / Drug Use:
***
Reviewed By Ambra