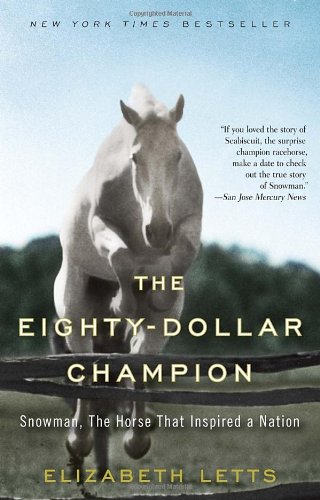 Publisher's Note:
NEW YORK TIMES BESTSELLER

Harry de Leyer first saw the horse he would name Snowman on a truck bound for the slaughterhouse. The recent Dutch immigrant recognized the spark in the eye of the beaten-up nag and bought him for eighty dollars. On Harry's modest farm on Long Island, he ultimately taught Snowman how to fly. Here is the dramatic and inspiring rise to stardom of an unlikely duo. One show at a time, against extraordinary odds and some of the most expensive thoroughbreds alive, the pair climbed to the very top of the sport of show jumping. Their story captured the heart of Cold War–era America—a story of unstoppable hope, inconceivable dreams, and the chance to have it all. They were the longest of all longshots—and their win was the stuff of legend.
This book was sent to Compass Book Ratings for review by Ballantine Books
The Eighty-Dollar Champion: Snowman, The Horse That Inspired a Nation
by Elizabeth Letts
Overall Review:
Elizabeth Letts, author of The Eighty-Dollar Champion, knows a good story when she sees one. The heart of the story is the Cinderella tale of an unexpected plow-horse, Snowman, rising to the pinnacle of success in the elite and exclusive world of competitive horse jumping; it is impossible to resist this tale of an underdog. The frosting to this narrative is the owner of the horse, Harry de Leyer, who in many ways was a reflection of his horse. His devotion to the well-being of the horse super ceded material concerns and was re-affirming.
The first part of the book isn't a strictly chronological retelling, but is sprinkled with anecdotal experiences from Harry de Leyer's life prior to his acquisition of this horse. The later part of the book settles into a straight chronological account and that felt more natural. Letts one stylistic flaw was a tendency to repeat information or sentiments, which was unnecessary.
Lett does her job as a non-fiction writer by orienting the reader to the sport and to the relevance of the story within the larger perspective of cultural events and history. And like a horse running for home, she ties up the later pages of the book beautifully and poignantly. A charming horse, a charming story, and a story worth being re-told.
Content Analysis:
Profanity/Language: None
Violence/Gore: An animal is injured in a show and must be euthanized; animal euthanized; general reference to injuries in the world of competitive jumping; a person has an accident and is critically injured; general references to events in WW II (explosions, fires, death of soldiers).
Sex/Nudity: None
Mature Subject Matter:
Animal Euthanasia.
Alcohol / Drug Use:
General/incidental references to smoking.
Reviewed By Cindy