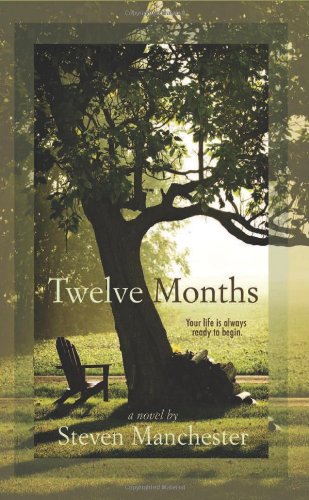 Publisher's Note:
Don DiMarco has a very good life – a family he loves, a comfortable lifestyle, passions and interests that keep him amused. He also thought he had time, but that turned out not to be the case. Faced with news that might have immediately felled most, Don now wonders if he has time enough. Time enough to show his wife the romance he didn't always lavish on her. Time enough to live out his most ambitious fantasies. Time enough to close the circle on some of his most aching unresolved relationships. Summoning an inner strength he barely realized he possessed, Don sets off to prove that twelve months is time enough to live a life in full.

A glorious celebration of each and every moment that we're given here on Earth, as well as the eternal bonds that we all share, TWELVE MONTHS is a stirring testament to the power of the human spirit.
This book was sent to Compass Book Ratings for review by The Story Plant
Twelve Months
by Steven Manchester
Overall Review:
After Don DiMarco is given a time stamp on his life, he feels the need to live his life to the fullest more than ever before. To do this, he makes a short bucket list and immediately jumps in on fulfilling these dreams. As one would expect, the story gets quite emotional as he lives his final days. Be prepared to shed a few tears as there are some tender moments, both happy and sad. There are also some frightening and peaceful experiences. Some great lessons are taught as Don goes through his final journey.
In Twelve Months, the author, Steven Manchester, is amazing at painting beautiful pictures with his words. He also includes a tremendous amount of detail for all the senses. This book will appeal to anyone touched by cancer or terminal illness who is interested in getting the perspective of the one suffering from the disease or illness. It is also great for anyone who might need to learn to appreciate their circumstances and be happy with the cards they've been dealt in life.
Content Analysis:
Profanity/Language: 17 religious exclamations; 25 mild obscenities; 2 derogatory names; 4 anatomical terms.
Violence/Gore: Many (22) brief incidents including but not limited to domestic violence mentioned; quick history of slavery; verbal threat; boy commits suicide; a few characters' mothers and a grandmother die; second-hand mention of children slaughtered; shooting; bullies beating up child; second-hand report of fatal car crash. Few (4) extended incidents including two scary stories and a second-hand report of war.
Sex/Nudity: Many (43) brief incidents including but not limited to kissing, hugging, cuddling, holding hands; naked children running around; animals having sex; affair mentioned; character's girlfriend gets pregnant; mention of pornography; sexual activity without details; character sees prostitutes.
Mature Subject Matter:
Stealing, PTSD and depression, war, spousal abuse, affair, lLife-threatening illness, "Gay disease" (referring to AIDS), slavery, kidnapping, death, cancer.
Alcohol / Drug Use:
Minors and adults drinking; alcohol abuse; joking about having to quit heroine; cigars and cigarettes purchased; smoking; Viagra for women.
Reviewed By Jenny