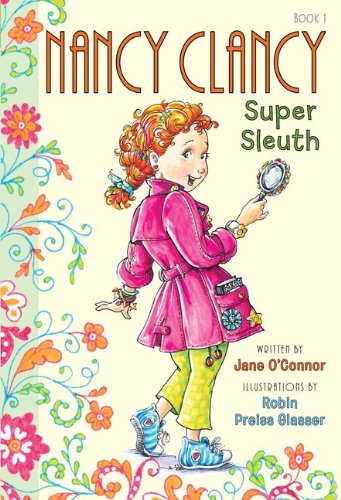 Publisher's Note:
Nancy Clancy is growing up and ready for a whole new adventure . . . in her chapter book debut!
Nancy and her best friend, Bree, have everything they need to solve a mystery, from their totally professional trench coats to their top-secret code.
But when crime strikes in their classroom, will these super sleuths be able to crack the case?
Find out in the glamorous start to an all-new chapter book series featuring everyone's favorite fancy girl!
Nancy Clancy Super Sleuth
by Jane O'Connor
Overall Review:
Jane O'Connor is launching her Fancy Nancy character into her first chapter book entitled NANCY CLANCY SUPER SLEUTH. The reader will find the plot amusing, realistic, and touching all at the same time. You would never guess that Nancy Clancy, dressed in sunglasses, a hat with a floppy brim, a pink trench coat and carrying a spiral notepad, a flashlight, and a rhinestone magnifying glass, is just dying to solve a mystery. The reader is immediately sympathetic and successfully hooked as Nancy and her friend Bree attempt unsuccessfully to solve their first few mysteries. These mysteries are either resolved by natural occurrences or Nancy and Bree nearly get caught as they do their snooping. However, when a valued memento is taken from a school display, Nancy and Bree are in their element. As Nancy moves closer to solving the mystery, she finds that some solutions come a at personal cost. Nancy learns valuable lessons in tolerance and forgiveness through the efforts of her parents who are two of the best characters in the storyline because they are so realistic. Her father makes funny remarks that keep Nancy grounded and I can just see her mother, upon learning that homework is not done, politely telling Bree to go home and then saying to Nancy "get cracking."
Parents will appreciate the clever method to introduce new vocabulary and the references to the Nancy Drew mysteries. This would make a good read aloud and the illustrations are well done.
Content Analysis:
Profanity/Language: None
Violence/Gore: A character fails to catch a ball correctly and lands facefirst in the dirt and slits her lip and bleeds.
Sex/Nudity: None
Mature Subject Matter:
***
Alcohol / Drug Use:
***
Reviewed By Marilyn