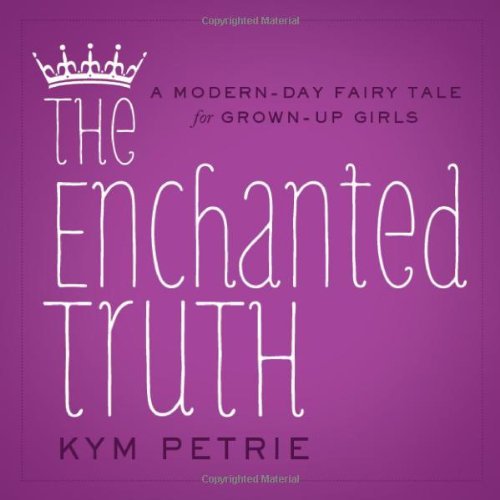 Publisher's Note:
In this humorous and insightful tale, a modern day princess finds herself single and asking for magical intervention to change her sorry love life. Rather than casting a spell to bring Prince Charming to her rescue, a savvy fairy godmother gives the tenderhearted damsel an unexpected gift. By entrusting her true thoughts and desires to an unlikely confidant, the young royal soon discovers that the person who could make her life everything she dreamed it would be has been with her all along. As author Kym Petrie herself realized, every woman needs a froggy friend and a secret journal and enough adventures with the girls to keep her heart pounding and her mind racing. Life is meant to be about happy beginnings . . . you can never have enough of them.
This book was sent to Compass Book Ratings for review by Greenleaf Book Group Press
The Enchanted Truth: A Modern-Day Fairy Tale For Grown-up Girls
by Kym Petrie
Overall Review:
The Enchanted Truth: A Modern-Day Fairytale for Grown-up Girls is a gift book. A short fable with a moral, it is perfect for that friend right after a break-up. Petrie's voice is fun and makes the reader laugh aloud at a couple of places. I found myself disappointed that the story was not longer and more substantial because of Petrie's light narrative style.
Although the narrative voice was entertaining, the moral is quite an old one that (hopefully) most young women have figured out before they leave high school. In fact, the lesson has been covered before in such works as the charming The Paper Bag Princess by Munsch. I admit that I had been expecting a twist or insight and it never came. So, don't hold your breath for ground-breaking insights, but enjoy a quick read. (If your heart-broken friend still doesn't get it after reading this book, you can always give her a thump on the head with the book...it is hardcover.)
Content Analysis:
Profanity/Language: 1 derogatory name
Violence/Gore: None
Sex/Nudity: Character sees a man nuzzling neck and stroking back of a woman; a man has wandering hands and is "interested in the curve of her bustline".
Mature Subject Matter:
Male and femaile relationships
Alcohol / Drug Use:
A visit to a wine bar is mentioned.
Reviewed By Cindy