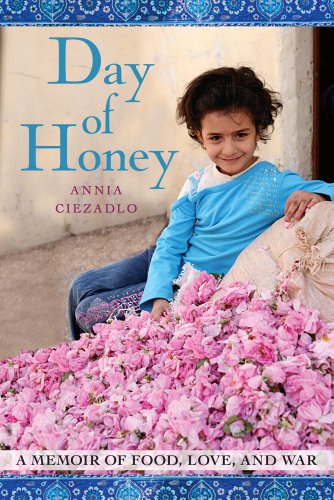 Publisher's Note:
A luminous portrait of life in the Middle East, Day of Honey weaves history, cuisine, and firsthand reporting into a fearless, intimate exploration of everyday survival. In the fall of 2003, Annia Ciezadlo spent her honeymoon in Baghdad. Over the next six years, while living in Baghdad and Beirut, she broke bread with Shiites and Sunnis, warlords and refugees, matriarchs and mullahs. Day of Honey is her memoir of the hunger for food and friendship—a communion that feeds the soul as much as the body in times of war.
This book was sent to Compass Book Ratings for review by Free Press
Day of Honey: A Memoir of Food, Love, and War
by Annia Ciezadlo
Overall Review:
Day of Honey is an extremely well written, well researched memoir that juxtaposes the harsh realities of a war torn country with the author's immersion in a beautiful culture, eating good food with good people. It's so refreshing to read something that joyfully depicts Iraqi culture. Her love for the culture shines through her descriptions of the delicious cuisine as well as her interactions with the people she meets, from underground book clubs to her Lebanese in-laws. There was the occasional lull and frequent section breaks throughout the chapters made it easy to stop and start sometimes, but in the end, Ciezadlo is a fantastic writer and that's what always brought me back.
Content Analysis:
Day of Honey is a memoir of a war reporter living in Beirut and Baghdad. If that doesn't say enough, its mature themes include murder references, violence, overthrows, escapes, danger, fright, etc.
Mature Subject Matter:
***
Alcohol / Drug Use:
***
Reviewed By SqueakyCleanReads