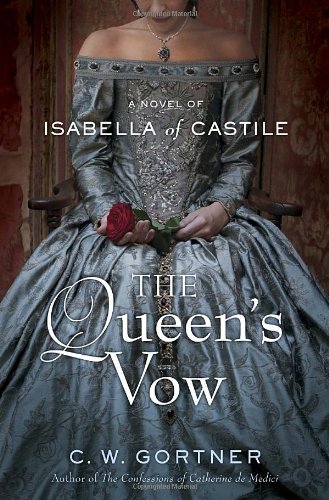 Publisher's Note:
No one believed I was destined for greatness.

So begins Isabella's story, in this evocative, vividly imagined novel about one of history's most famous and controversial queens—the warrior who united a fractured country, the champion of the faith whose reign gave rise to the Inquisition, and the visionary who sent Columbus to discover a New World. Acclaimed author C. W. Gortner envisages the turbulent early years of a woman whose mythic rise to power would go on to transform a monarchy, a nation, and the world.

Young Isabella is barely a teenager when she and her brother are taken from their mother's home to live under the watchful eye of their half-brother, King Enrique, and his sultry, conniving queen. There, Isabella is thrust into danger when she becomes an unwitting pawn in a plot to dethrone Enrique. Suspected of treason and held captive, she treads a perilous path, torn between loyalties, until at age seventeen she suddenly finds herself heiress of Castile, the largest kingdom in Spain. Plunged into a deadly conflict to secure her crown, she is determined to wed the one man she loves yet who is forbidden to her—Fernando, prince of Aragon.

As they unite their two realms under "one crown, one country, one faith," Isabella and Fernando face an impoverished Spain beset by enemies. With the future of her throne at stake, Isabella resists the zealous demands of the inquisitor Torquemada even as she is seduced by the dreams of an enigmatic navigator named Columbus. But when the Moors of the southern domain of Granada declare war, a violent, treacherous battle against an ancient adversary erupts, one that will test all of Isabella's resolve, her courage, and her tenacious belief in her destiny.

From the glorious palaces of Segovia to the battlefields of Granada and the intrigue-laden gardens of Seville, The Queen's Vow sweeps us into the tumultuous forging of a nation and the complex, fascinating heart of the woman who overcame all odds to become Isabella of Castile.
This book was sent to Compass Book Ratings for review by Random House
The Queen's Vow
by C. W. Gortner
Overall Review:
The Queen's Vow tells the tale of how one young princess rose above doubt, discouragement and defeat to become one of the greatest queens the world has ever known. Told exclusively from Isabella's point of view, the action rapidly enfolds and never stops in this almost 400-page drama. I couldn't help feeling like I too was in ancient Spain. The story's constant feelings of unrest and upheaval had me holding my breath over Isabella's fate.
While Isabella's story is familiar to many, Gortner brings her history to life with his interesting detail, palpable energy and quick pacing. Though Isabella was an ancient monarch, she felt refreshingly relatable as she worried about her husband and children. Isabella's struggles were never sugarcoated, especially as she tackled heavy and emotional topics like religious persecution and dirty politics. The Queen's Vow is an excellent and informative read with a haunting message of the cost of change.
Content Analysis:
Profanity/Language: 7 religious exclamations, 2 mild obscenities, 21 derogatory names, 2 scatological words and 1 anatomical term
Violence/Gore: Verbal threats against enemies and Jews are issued; characters speak of war in lands far away; second-hand reports of violence include accounts of sieges, battles, beheadings, burnings at the stake and killing of innocent babes; a character is beaten; a fire destroys property without casualties; Jews are stoned to death and men are condemned to be disemboweled and hung on city gates in non-detailed scenes of violent death.
Sex/Nudity: A few incidents of kissing and a mention of breastfeeding. There are numerous sexual references including talk of consummation and producing an heir; whispers of infidelity and affairs; allusions to homosexual relations; talk of sexual desire, "bedding others" and an inclusion of lewd comments. An incident of caressing occurs. Numerous implied or reported accounts of sexual activity take place, including reference to three-way trysts, "boy-loving" relationships and being taken into bedrooms. Three incidents of explicit descriptions of sex between adults occur.
Mature Subject Matter:
Religious persecution, homosexual relations, greed and power, murder, war, death of family members, mental disorders, marriage infidelity.
Alcohol / Drug Use:
Characters often drink wine.
Reviewed By Rachel