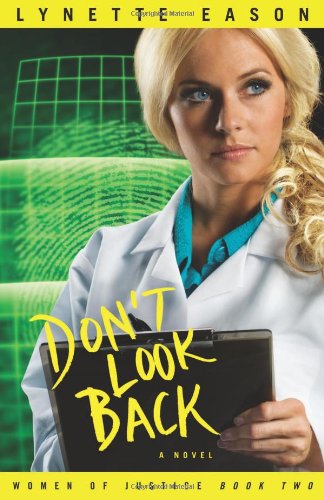 Publisher's Note:
Twelve years ago, forensic anthropologist Jamie Cash survived a brutal kidnapping, torture, and rape. After years of therapy, she has made a life for herself--though one that is haunted by memories of her terrifying past. She finally lets herself get close to a man, FBI agent Dakota Richards, when signs start appearing that point to one frightening fact--her attacker is back and ready to finish the job he started all those year ago. Can she escape his grasp a second time? And will she ever be able to let down her guard enough to find true love?

Filled with heart-stopping suspense, gritty realism, and a touch of romance, Don't Look Back is the second book in the WOMEN OF JUSTICE series. Readers will be hooked from the beginning, finding that once you are in Lynette Eason's world, you're trapped until you turn the very last page.
Don't Look Back
by Lynette Eason
Overall Review:
Second in the Women of Justice series, Don't Look Back was intense. Packed with suspense and chilling views into the mind of a psychopath, the author weaves a rather unsettling tale which causes the reader to almost feel sorry for the antagonist of the story. Perhaps the greatest value of the story is to help one appreciate the good friends and family he possesses. The biggest disappointment for this reader was discovering that the formula for this book was extremely similar to that of the first novel in the series and thus the 3.5 star rating. If the third book follows suit, it will pretty much conclude any interest in the series as the perpetrator is getting much easier to recognize very early in the book.
Content Analysis:
Profanity/Language: None
Violence/Gore: Many creepy and intense scenes, some lasting several pages; characters shove, bite and strike other characters; blood is mentioned many times from various injuries, some fatal, brief graphic detail; character discusses various methods to kill another character including strangulation, shooting and drowning; character deliberately breaks another's bones; report of child abuse by a parent; characters threaten others with various weapons including guns; character reported to have committed suicide; multiple dead bodies are discovered; character's job involves examining human remains, descriptions include mention of bones and tissue and reconstructive processes.
Sex/Nudity: Non-married and married characters embrace, hold hands and kiss; mention of a rape in the past, no details.
Mature Subject Matter:
Child and spousal abuse, sexual abuse, suicide, death of friends and family members, rape, mental disorders, addictions, underage drinking.
Alcohol / Drug Use:
Character addicted to painkillers; teens attend parties with drugs and alcohol; characters unwillingly given drugs; character drinks alcohol regularly.
Reviewed By Susan