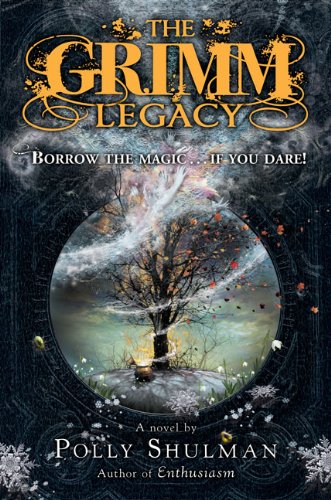 Publisher's Note:
Elizabeth has a new job at an unusual library—a lending library of objects, not books. In a secret room in the basement lies the Grimm Collection. That's where the librarians lock away powerful items straight out of the Brothers Grimm fairy tales: seven-league boots, a table that produces a feast at the blink of an eye, Snow White's stepmother's sinister mirror that talks in riddles.
When the magical objects start to disappear, Elizabeth embarks on a dangerous quest to catch the thief before she can be accused of the crime—or captured by the thief.
Polly Shulman has created a contemporary fantasy with a fascinating setting and premise, starring an ordinary girl whose after-school job is far from ordinary—and leads to a world of excitement, romance and magical intrigue.
The Grimm Legacy
by Polly Shulman
Overall Review:
The Grimm Legacy by Polly Shulman is a sweet and charming middle-grade fantasy. The premise is delightful: borrowing magical items from a repository! Who wouldn't be interested? This premise gives Shulman abundant creative material and she does an excellent job of having fun with the concept. The main characters are four teenagers from a variety of ethnic backgrounds and there is a sprinkle of romantic interest. Although the characters are teenagers, the gentle action and level of peril are a good fit for tweens. The dialogue and pacing of the book weren't gripping, but it did make one wish for magical borrowing privileges.
Content Analysis:
Profanity/Language: None
Violence/Gore: Mythical creature frightens and chases an individual; mythical creatures battle each other briefly (a mention of blood); magic spells cast on individuals (no permanent damage).
Sex/Nudity: Characters "like" other characters; a couple is observed kissing on the lips and on the neck; an image is seen in a magical mirror of individuals kissing passionately (no description); a character puts arm around another character on a few different occasions; characters kiss a few times in a brief scene (no description); character teases another character by saying there comes a time in a girls life when she starts to experience changes (a general statement and nothing more is said on this topic).
Mature Subject Matter:
Theft.
Alcohol / Drug Use:
***
Reviewed By Cindy