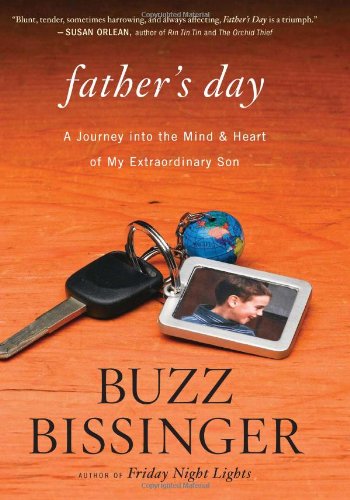 Publisher's Note:
A remarkable memoir from the best-selling author of Friday Night Lights and Three Nights in August.

Buzz Bissinger's twins were born three minutes—and a world—apart. Gerry, the older one, is a graduate student at Penn, preparing to become a teacher. His brother Zach has spent his life attending special schools. He'll never drive a car, or kiss a girl, or live by himself. He is a savant, challenged by serious intellectual deficits but also blessed with rare talents: an astonishing memory, a dazzling knack for navigation, and a reflexive honesty that can make him both socially awkward and surprisingly wise.

Buzz realized that while he had always been an attentive father, he didn't really understand what it was like to be Zach. So one summer night Buzz and Zach hit the road to revisit all the places they have lived together during Zach's twenty-four years. Zach revels in his memories, and Buzz hopes this journey into their shared past will bring them closer and reveal to him the mysterious workings of his son's mind and heart. The trip also becomes Buzz's personal journey, yielding revelations about his own parents, the price of ambition, and its effect on his twins.

As father and son journey from Philadelphia to Los Angeles, they see the best and worst of America and each other. Ultimately, Buzz gains a new and uplifting wisdom, realizing that Zach's worldview has a sturdy logic of its own: a logic that deserves the greatest respect. And with the help of Zach's twin, Gerry, Buzz learns an even more vital lesson about Zach: character transcends intellect. We come to see Zach as he truly is: patient, fearless, perceptive, kind—a man of excellent character.
Father's Day: A Journey into the Mind & Heart of My Extraordinary Son
by Buzz Bissinger
Overall Review:
Father's Day is a memoir about Zach, a special needs adult. As the parent of a special needs adult, I found this memoir to be extremely honest and insightful, and at times painful. Most parents will relate to the author's deep love for his son as well as his feelings of inadequacy, and at times, frustration. However, many may not relate to the feelings of guilt, shame and regret which he so honestly and bravely shares. These feelings are complicated by the fact that Zach has a twin brother, Gerry, who is "one of the Normals".
In an effort to emotionally connect with his son, Buzz embarks on a road trip across the United States with Zach. Father's Day chronicles not just their actual trip, but also Buzz's emotional journey as he struggles to share meaningful memories and dialogue with Zach--no easy task as Zach's comprehension skills are about those of an eight year old.
Early in the book Buzz says "It is strange to love someone so much who is still so fundamentally mysterious to you after all these years. Strange is a lousy word, meaning nothing. It is the most terrible pain of my life". And in closing he says "There is no rose colored ending to any of this. There is no pretty little package with a tidy bow...I still fear for his future. He is not the child that I wanted. But he is no longer a child anyway. He is a man, the most fearless I have ever known, friendly, funny, freaky, unfathomable, forgiving, fantastic...".
The excessive use of foul language, mostly limited to several specific instances, was distracting and is what kept me from giving a rating of 5.
Buzz's honest portrayal of Zach's limitations, as well as his own, is both refreshing and disturbing. I read this book out loud to my husband during a long vacation and at times we laughed, at times we cried and times we did both. This book will resonate with many special needs parents.
Content Analysis:
Profanity/Language: 56 "F" word or derivatives, 27 mild obscenities, 3 derogatory names.
Violence/Gore: None
Sex/Nudity: One mention of "big tits".
Mature Subject Matter:
Divorce, family/personal crisis, social conflicts, mental disability/special needs children, bipolar disorder.
Alcohol / Drug Use:
One character mentions deliberately drinking alcohol in excess without elaborating on the details.
Reviewed By Sherel