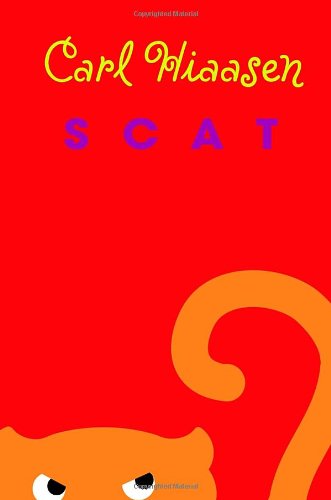 Publisher's Note:
Bestselling author and columnist Carl Hiaasen returns with another hysterical mystery for kids set in Florida's Everglades.

Bunny Starch, the most feared biology teacher ever, is missing. She disappeared after a school field trip to Black Vine Swamp. And, to be honest, the kids in her class are relieved.

But when the principal tries to tell the students that Mrs. Starch has been called away on a "family emergency," Nick and Marta just don't buy it. No, they figure the class delinquent, Smoke, has something to do with her disappearance.

And he does! But not in the way they think. There's a lot more going on in Black Vine Swamp than any one player in this twisted tale can see. And Nick and Marta will have to reckon with an eccentric eco-avenger, a stuffed rat named Chelsea, a wannabe Texas oilman, a singing substitute teacher, and a ticked-off Florida panther before they really begin to see the big picture.

That's life in the swamp, kids.
This book was sent to Compass Book Ratings for review by Random House
Scat
by Carl Hiaasen
Overall Review:
Filled with larger-than-life characters (with names like Bunny Starch and Wedndell Waxmo!), Scat is an entertaining, page-turning romp through the Florida everglades. I enjoyed Hiaasen's madcap writing style, and loved learning a little bit about the natural environment of the Everglades. (I had no idea that there were panthers in Florida until I read this book!) Although at times the quirky characters and funny plotlines seemed a little too far-fetched to me, overall I found Scat a delightfully well-paced read. Although I think this book would be widely enjoyed by preteens and teens—particularly those with an interest in wildlife and the wilderness—I suspect it would be a particularly good read for hard-to-interest preteen boys. Scat is recommended for preteens and young teens (and adults) who enjoy a fast, zany read.
Content Analysis:
Profanity/Language: 11 religious exclamations. 14 mild obscenities. 5 anatomical terms.
Violence/Gore: A boy threatens a teacher ("You'll be sorry"). Characters threaten other characters on four occasions (on two of these occasions, the threats are rather bizarre and violent). A fire is caused by arson, and references are made to past arson. A soldier is wounded in battle. A man is twice attacked, stripped naked, and tied up (these incidents are handled in a wacky/madcap manner rather than an overly violent one). A man's house is broken into and the man is threatened. A man clamps pliers onto another man's lips. A man is attacked by a bird. A man is thrown from a horse and breaks several bones. A man shoots at a wild animal twice. A boy falls in a tree and breaks his arm. A woman is accidentally shot and wounded, but recovers. Although some of the incidents of violence are very bizarre, all of them are handled in a cartoonish/silly way rather than an intense one.
Sex/Nudity: A man is twice attacked and his clothes are taken (nothing is described except that he is both times referred to as "buck naked"). Two preteens hold hands.
Mature Subject Matter:
War, abandonment by parents.
Alcohol / Drug Use:
A reference is made to drug addicts. A man is said to be a smoker. Adults drink alcohol.
Reviewed By CindyB