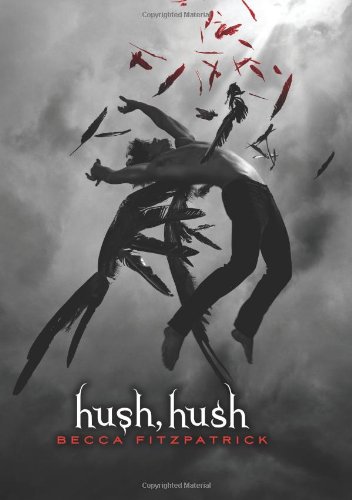 Publisher's Note:
Nora Grey is responsible and smart and not inclined to be reckless. Her first mistake was falling for Patch.
Patch has made countless mistakes and has a past that could be called anything but harmless. The best thing he ever did was fall for Nora.
After getting paired together in biology, all Nora wants to do is stay away from Patch, but he always seems to be two steps ahead of her. She can feel his eyes on her even when he is nowhere around. She feels him nearby even when she is alone in her bedroom. And when her attraction can be denied no longer, she learns the secret about who Patch is and what led him to her, as well as the dark path he is about to lead her down. Despite all the questions she has about his past, in the end, there may be only one question they can ask each other: How far are you willing to fall?
Hush, Hush
by Becca Fitzpatrick
Overall Review:
A dangerous, but amazingly attractive young man who isn't exactly human and has stalker-like tendancies; a heroine who repeatedly exhibits poor judgement endangering her life; the plot-enabling, ever-absent and oblivious parent....No, Hush, Hush isn't that young adult fantasy romance novel, it is a different one.
Although Hush, Hush shares much of the DNA of the current, typical, young adult fantasy romance novel, it holds its own and was voted #54 on a recent NPR poll for best young adult fiction. Although it isn't perfect and the characters aren't particularly deep, there are a few things going for this book. The writing is solid; the dialogue flows naturally and the banter is good. Also, the fantasy premise is fresh. (In fact, it would have been fabulous to have this aspect expanded further.) The conclusion is satisfying and the reader doesn't close the book completely furious. Fitzpatrick does a top-notch job of feeding out only the minimal amount of information to keep the plot going and keep the reader hooked. It isn't until about two-thirds of the way through the book that the reader starts to get some answers. The way this is done is not frustrating, but enticing. Fitzpatrick also knows how to build the physical attraction between her lead characters in a tasteful way.
Because Hush, Hush is more about physical attraction than about romance, this book would probably be best for older young adult readers. It is the first in a series with the final book coming out this fall. If you are a fan of the YA demographic and this genre in particular, you will find Hush, Hush hard to put down.
Content Analysis:
Profanity/Language: 1 mild obscenity; 3 derogatory names; 1 offensive hand gesture.
Violence/Gore: Mention of a year old murder; reference to a scene of violence in a scary movie; report of a murder/suicide in newspaper; character mugged, hit, and arm broken; report of someone being attacked and injured; character punches house and pins a character against the house; character tries to kill another character with a knife and fire; report of ripping of wings; verbal threat to kill someone; character finds a body; characters struggle hit/kick/push/stab with scapel; report of a death; character hit by a car.
Sex/Nudity: Reference to angels mating with mortal women; 2 extended scenes in a classroom where sex education is discussed with joking, discussion of how to attract a mate (no details on actual sex); attractiveness of an individual is discussed on several occasions; reference to "that time of the month"; character uses hand to caress another character's lip; reference to "a boob job"; several instances where characters stand very close to each other and feel strong attraction for each other; character kisses another character's shoulder, neck, jaw; character asks if someone French kissed; bra shopping at Victoria's Secret; scene in which characters check-in to a motel and change out of wet clothes and are wearing basically underwear for an extended scene with some sexual tension, 1 kiss; reference to a whorehouse; characters kiss; 1 brief scene involving passionate kissing with brief description.
Mature Subject Matter:
Death of a family member, deception, physical/sexual attraction, murder.
Alcohol / Drug Use:
A teenage character shows up drunk at another character's house.
Reviewed By Cindy