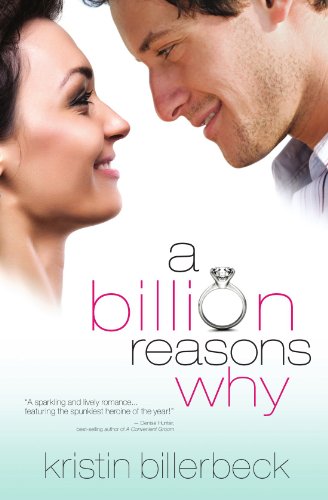 Publisher's Note:
There are a billion reasons Kate should marry her current boyfriend.
Will she trade them all to be madly in love?
Katie McKenna leads a perfect life. She has a fulfilling job, a cute apartment, and a wedding to plan with her soon-to-be fiancé, Dexter. She can think of a billion reasons why she should marry Dexter. He's everything she wants in a husband.
And then in walks Luc DeForges, her bold, breathtaking ex-boyfriend. Only now he's a millionaire. And he wants her to go home to New Orleans to sing for a friend's wedding. As his date.
But Katie made up her mind about Luc eight years ago, when she fled their hometown after a very public breakup. Yet there's still a magnetism between them she can't deny.
Katie thought her predictable relationship with Dexter would be the bedrock of a lasing, Christian marriage. But what if there's more? What if God's desire for her is a heart full of life? And what if that's what Luc has offered all along?
This book was sent to Compass Book Ratings for review by Thomas Nelson
A Billion Reasons Why
by Kristin Billerbeck
Overall Review:
A Billion Reasons Why is filled with almost tangible chemistry that will get your heart pumping in sync with Katie's heart. The whirlwind romance makes it difficult to put the book down. Readers journey with Katie on a road in which she must discover which man will give her the life she wants, and what risks she will take to be with him.
This upbeat book covers the discovery of an emerald wedding ring, but more importantly it discovers the beauty of a heart. It honors the memory of a father and shows the support of a mother and best friend. It uncovers the youthful "Katie-bug" trapped within the grown up exterior of Miss McKenna, and lets Katie see the truth about herself. One is almost sure to find a lesson about themselves within these pages and leave smiling. A Billion Reasons Why is a good read for women everywhere.
Content Analysis:
Profanity/Language: ***
Violence: Second-hand report of a man being hit by a streetcar.
Sex/Nudity: A few kisses; man holding a woman in his arms; bed made up with roses; implied sexual activity.
Mature Subject Matter:
Abandonment, Death of a loved one, Gambling, Socioeconomic conflict.
Alcohol / Drug Use:
Alcohol at a party; alcohol at the place where Katie used to work.
Reviewed By Megan