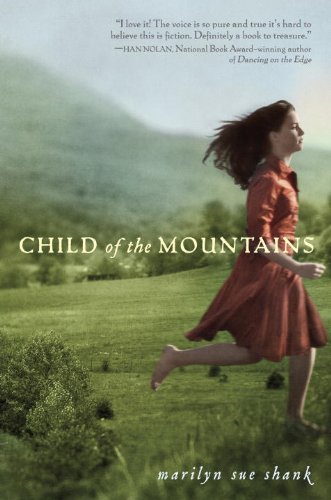 Publisher's Note:
It's about keeping the faith.

Growing up poor in 1953 in the Appalachian Mountains of West Virginia doesn't bother Lydia Hawkins. She treasures her tight-knit family. There's her loving mama, now widowed; her whip-smart younger brother, BJ, who has cystic fibrosis; and wise old Gran. But everything falls apart after Gran and BJ die and mama is jailed unjustly. Suddenly Lydia has lost all those dearest to her.
Moving to a coal camp to live with her uncle William and aunt Ethel Mae only makes Lydia feel more alone. She is ridiculed at her new school for her outgrown homemade clothes and the way she talks, and for what the kids believe her mama did. And to make matters worse, she discovers that her uncle has been keeping a family secret—about her.

If only Lydia, with her resilient spirit and determination, could find a way to clear her mother's name. . .
This book was sent to Compass Book Ratings for review by Random House
Child of the Mountains
by Marilyn Sue Shank
Overall Review:
Because I grew up not far from the Appalachian mountains and have cystic fibrosis myself, I was immediately intrigued by the description of Marilyn Sue Shank's Child of the Mountains. This rich, layered book did not disappoint. Lydia's lilting mountain voice is lovely and authentic, and I enjoyed the wonderful characters that peopled the novel. I found Lydia's love for her family, and her tentative first steps into womanhood, moving. Although this book deals with hard concepts—death, grief, imprisonment, domestic abuse—it does so with gentleness and compassion. Child of the Mountains is highly recommended to young teens and adults who like a thoughtful, well-written story.
Content Analysis:
Profanity/Language: Profanity is hinted at but not spelled out.
Violence/Gore: A woman is accused of killing her child. Three references are made to domestic abuse. A girl fears that a man will hit her on two occasions (he doesn't do so on either).
Sex/Nudity: A woman comments on a girl's developing figure and says that they need to buy the girl some bras. (On a few occasions in the story, girls' breasts are reffered to as "titties.")
Mature Subject Matter:
Death, grief, poverty, serious illness, alcoholism and domestic violence, prejudice.
Alcohol / Drug Use:
A character in the story (who is present only in memories and flashbacks) is described as being an alcoholic. Adults smoke cigarettes.
Reviewed By CindyB