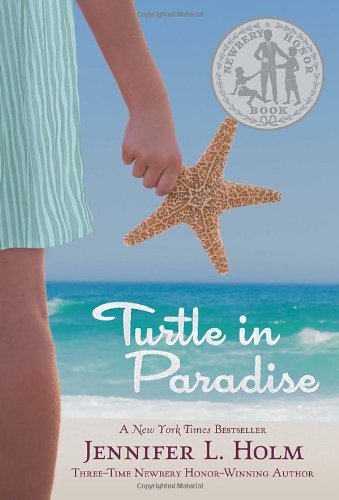 Publisher's Note:
Life isn't like the movies and 11-year-old Turtle is no Shirley Temple. She's smart and tough and has seen enough of the world not to expect a Hollywood ending. After all, it's 1935 and money and sometimes even dreams are scarce. So when Turtle's mother gets a job housekeeping for a lady who doesn't like kids, Turtle says goodbye and heads off to Florida to live with relatives. Florida's like nothing Turtle's ever seen before though. It's full of rag tag boy cousins, family secrets to unravel . . . and even a little bit of fun. Before she knows what's happened, Turtle finds herself coming out of her shell and as she does, her world opens up in the most unexpected ways. Inspired by family stories, three-time Newbery Honor winner Jennifer L. Holm blends family lore with America's past, in this charming, gem of a novel rich in history, humor, and the unique flavors of Key West.
This book was sent to Compass Book Ratings for review by Random House
Turtle In Paradise
by Jennifer L. Holm
Overall Review:
Being a lover of islands and the ocean myself, I was obviously intrigued by Turtle in Paradise, a quirky, full-of-character book that takes place in Key West, Florida. I quickly fell in love with Turtle's tough, no-nonsense voice. By the time the "Diaper Gang"—a group of preteen boys who babysit for candy and even have their own super-secret diaper rash formula—was introduced, I was sold! My only complaint about the book was that I felt like the ending was rather abrupt. Then again, sometimes life is like that—and, more than anything, Turtle in Paradise is about real life, in all its ups and downs.
Content Analysis:
Profanity/Language:
***
Violence/Gore: Kids tussle and fight on two occasions. A story is told about a group of children setting fire to a cat's tail (the story is referenced several times). A woman is stung repeatedly by a scorpion, ending up sick as a result.
Sex/Nudity: An adult woman is said to have had a lot of boyfriends.
Mature Subject Matter:
The Great Depression, poverty, children separated from parents, betrayal by loved ones.
Alcohol / Drug Use:
A man is said to be a "rum runner". An old man recommends putting whiskey on a baby's gums to help with teething pains.
Reviewed By CindyB