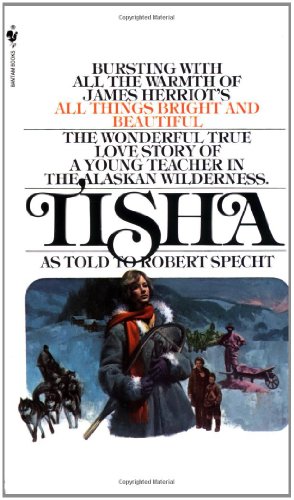 Publisher's Note:
The author tells the story as told to him of Anne Hobbs, a woman who went to Alaska in the 1920's to teach, but who had trouble due to her kindness to the Indians there.
Tisha: The Story of a Young Teacher in the Alaskan Wilderness
by Robert Specht with Anne Hobbs
Overall Review:
Tisha: A Young Teacher in the Alaskan Wilderness is another example of how truth can be stranger than fiction. This non-fiction book relates the adventures of 19 year old Anne Hobbs in her first year of teaching in Alaska in 1927 and her experiences were extraordinary. This book reflects a love of Alaska, a love of children, a love of teaching, and an individual's determination to do what is right.
The story-telling is a straightforward account by Anne as told to Robert Specht and while the narrative voice isn't flashy, it does ring true and serves to capture the flavor of the era. This book is a quick and easy read with plenty to keep the dinner-time conversation going.
Content Analysis:
Profanity/Language: 11 religious exclamations; 102 mild obscenities; 8 religious profanities; 17 derogatory names; 1 anatomical term.
Violence/Gore: Grizzly attacks and eats a caribou, brief detail; a horse is harshly whipped, drawing blood; a man threatens to strike a woman; a man tries to start a fist fight with pushing and shoving; generic reference to a past practice of natives killing female infants; a tongue is frozen to a glass window pane and is injured; a wolf is killed; reference to practice of trapping animals for fur; an extended fistfight between two men involving repeated punching, brief mention of blood; death of a man by accident/nature; injuries sustained in a sled crash.
Sex/Nudity: Characters kiss and hold each other a few different times without details; reference to illegitimate children; general innuendos about women and men who are not married.
Mature Subject Matter:
Racial prejudice, racial discrimination, poverty, bootlegging, death of a family member, illegitimate children.
Alcohol / Drug Use:
There is drinking and smoking throughout by adults. One adult is a bootlegger and is "running liquor". A few individuals are labeled as drunks.
Reviewed By Cindy