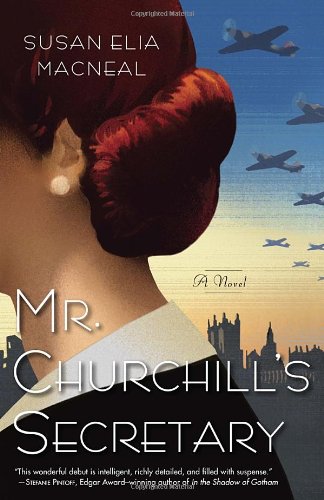 Publisher's Note:
For fans of Jacqueline Winspear, Laurie R. King, and Anne Perry, Mr. Churchill's Secretary captures the drama of an era of unprecedented challenge—and the greatness that rose to meet it.

London, 1940. Winston Churchill has just been sworn in, war rages across the Channel, and the threat of a Blitz looms larger by the day. But none of this deters Maggie Hope. She graduated at the top of her college class and possesses all the skills of the finest minds in British intelligence, but her gender qualifies her only to be the newest typist at No. 10 Downing Street. Her indefatigable spirit and remarkable gifts for codebreaking, though, rival those of even the highest men in government, and Maggie finds that working for the prime minister affords her a level of clearance she could never have imagined—and opportunities she will not let pass. In troubled, deadly times, with air-raid sirens sending multitudes underground, access to the War Rooms also exposes Maggie to the machinations of a menacing faction determined to do whatever it takes to change the course of history.

Ensnared in a web of spies, murder, and intrigue, Maggie must work quickly to balance her duty to King and Country with her chances for survival. And when she unravels a mystery that points toward her own family's hidden secrets, she'll discover that her quick wits are all that stand between an assassin's murderous plan and Churchill himself.

In this daring debut, Susan Elia MacNeal blends meticulous research on the era, psychological insight into Winston Churchill, and the creation of a riveting main character, Maggie Hope, into a spectacularly crafted novel.
This book was sent to Compass Book Ratings for review by Random House
Mr. Churchill's Secretary
by Susan Elia MacNeal
Overall Review:
Mr. Churchill's Secretary is fantastic mixture of fact and fiction, set in London during World War II. The story begins rather slowly, with lots of political dialogue. Readers shouldn't dismay; once these discussions are over, the plot takes off at lightening speed and never breaks in action. First-time author MacNeal crafts an intense story complete with top-secret codes, sleeper agents and bombs set to go off at any second. With a whole menagerie of interesting characters, plus a never-ending amount of twists and turns, this book is a hit. Mr. Churchill's Secretary is one entertaining piece of historical fiction!
Content Analysis:
Profanity/Language: 24 religious exclamations, 36 mild obscenities, 12 religious profanities, 18 derogatory names, 4 scatological words, 7 anatomical terms, 5 F-word derivatives
Violence/Gore: Characters are threatened at gunpoint and with torture; second-hand reports of violence include IRA executions, Nazis bombings on London, and a character recalling when her father was shot and her mother was raped; a character is hit in the head with a frying pan; a character is slapped; a character is hit in the head with a lamp; a character is punched; a character is kicked in the groin; a character is burned on the arm by a hot poker iron; characters survive bombings; a character's chair is purposely kicked out from under her and she strikes her head; continual bombings cause destruction of property; in non-detailed scenes of violent death, a man is beaten, a woman is burned, a woman is stabbed and bodies are seen being pulled from the rubble. Three characters are shot with blood and gore details.
Sex/Nudity: Kissing occurs several times; an account of Holocaust victims mentions nudity; sexual references include concubines, homosexual relationships, "lying in bed together", and a woman suggestively undoing a man's belt. Implied sexual activity includes a charater mentioning rape, sleeping with men and hearing sexual activity through thin walls.
Mature Subject Matter:
War, murder, death, espionage, homosexual relations, abortion, rape, religious conflict
Alcohol / Drug Use:
Characters smoke and drink; frequently they attend bars and dinner clubs.
Reviewed By Rachel