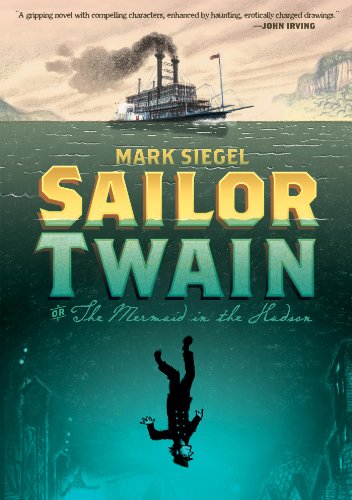 Publisher's Note:
One hundred years ago. On the foggy Hudson River, a riverboat captain rescues an injured mermaid from the waters of the busiest port in the United States. A wildly popular--and notoriously reclusive--author makes a public debut. A French nobleman seeks a remedy for a curse. As three lives twine together and race to an unexpected collision, the mystery of the Mermaid of the Hudson deepens.
A mysterious and beguiling love story with elements of Poe, Twain, Hemingway, and Greek mythology, drawn in moody black-and-white charcoal, Sailor Twain is a study in romance, atmosphere, and suspense.
This book was sent to Compass Book Ratings for review by First Second Books
Sailor Twain
by Mark Siegel
Overall Review:
Sailor Twain has been lauded by critics, authors I trust had good things to say about it, and I was excited to read it. Graphic novels are gaining popularity, especially among young people who struggle with reading, and they are a great way to get reluctant readers started, but I was extremely disappointed in this case. Not only was the content highly objectionable, but the plot didn't make a whole lot of sense. It seemed to me that the language and sex were almost completely gratuitous. There were several instances of foul language used out of context, and one sexual subplot was totally outrageous.
The art was extremely well done, and the text was easy to follow. Beautiful illustrations really took the reader into the story, but often they were too evocative, given the content.
I have been unable to understand why this book was written and marketed for anyone. There was so much potential for something really exciting--through writing and art. My experience fell disappointingly flat.
Content Analysis:
Profanity/Language: 1 religious exclamation; 2 mild obscenities; 1 religious profanity; 2 derogatory names; 1 scatological word; 2 anatomical terms; 3 f-word derivatives.
Violence/Gore: A character is thought to have committed suicide; a character attempts suicide by hanging; a man is found drowned; a ship is blown up with one casualty; a character dies in battle while shielding another character with his body.
Sex/Nudity: (Text only) innuendo; discussion of sex; metaphorical discussion of genitalia and sex acts; frequent discussion of sexual activity with multiple partners; discussion of marital infidelity; moaning.
(Pictorial depictions) several characters kiss; a male character looks lustfully at women; a character has explicit thoughts about commiting sexual acts; a character dreams about explicit sexual activity with another character; a character walks in on other characters having sex; a character is seen with his hands under a woman's skirt; a character fondles a woman's breasts; a fantastical creature is frequently depicted with naked breasts; men and women are seen together in a bedroom dressing; full frontal nudity--both male and female; a character thinks explicitly about other people having sex.
Mature Subject Matter:
Suicide; marital infidelity; death of a family member.
Alcohol / Drug Use:
Adult characters are frequently seen drinking alcohol, drunk, and smoking; adult characters discuss drug use.
Reviewed By Leslie