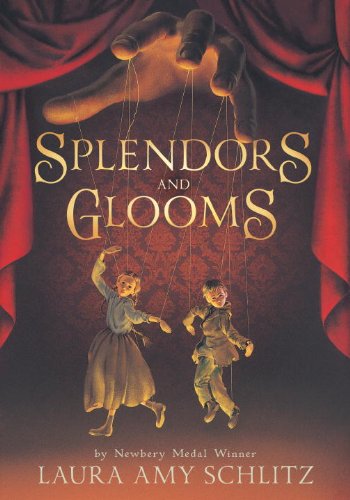 Publisher's Note:
Newbery Medalist Laura Amy Schlitz brings her sorcery to a Victorian gothic thriller — an enthralling, darkly comic tale that would do Dickens proud.

The master puppeteer, Gaspare Grisini, is so expert at manipulating his stringed puppets that they appear alive. Clara Wintermute, the only child of a wealthy doctor, is spellbound by Grisini's act and invites him to entertain at her birthday party. Seeing his chance to make a fortune, Grisini accepts and makes a splendidly gaudy entrance with caravan, puppets, and his two orphaned assistants.

Lizzie Rose and Parsefall are dazzled by the Wintermute home. Clara seems to have everything they lack — adoring parents, warmth, and plenty to eat. In fact, Clara's life is shadowed by grief, guilt, and secrets. When Clara vanishes that night, suspicion of kidnapping falls upon the puppeteer and, by association, Lizzie Rose and Parsefall.

As they seek to puzzle out Clara's whereabouts, Lizzie and Parse uncover Grisini's criminal past and wake up to his evil intentions. Fleeing London, they find themselves caught in a trap set by Grisini's ancient rival, a witch with a deadly inheritance to shed before it's too late.

Newbery Medal winner Laura Amy Schlitz's Victorian gothic is a rich banquet of dark comedy, scorching magic, and the brilliant and bewitching storytelling that is her trademark.
This book was sent to Compass Book Ratings for review by Candlewick Press
Splendors and Glooms
by Laura Amy Schlitz
Overall Review:
Laura Amy Schlitz is the Newbery winner for her brilliant Good Gentleman! Fair Ladies!: Voices from a Medieval Village. In Splendors and Glooms she turns her hand to England, 1860. At times eerie and always atmospheric, the reader can almost taste the dirty, London fog. By alternating narrating viewpoints, all the characters are thoroughly developed--from the execrable Grisini to the sweet Lizzie Rose to the heartless witch. The plot is methodically played out and never rushed, which adds to the moodiness of the book and a shared feeling of entrapment by the reader. The pacing of the book and some of the themes lends itself to a slightly older reader. Lovers of the historical fiction, Gothic novels, and sinister magic curses will enjoy this read.
Content Analysis:
Profanity/Language: 15 religious exclamations, 9 mild obscenities, 1 derogatory name.
Violence/Gore: Vague report of violence in past with mention of blood; accidental smashing of hand; report of death by illness; brief vision of 3 different women suffering death by fire; characters are slapped on different occasions (4); report of a kidnapping; brief recollection of violence & reference to blood; 1 scene in which adult hits/shakes youth and retaliating hitting/kicking; fall resulting in severe injury/possible death with mention of blood; children tussle; report of the death of a child; report of various ways people have dies as a result of a curse; threats of violence; carts crash with minor injuries; deliberate cutting of an ear to inflict injury (blood is drawn); report of suicides; magic ritual involving the slicing of an arm (brief, but detailed description); brief scene involving the torture of a character with the mention of blood; brief scene in which character recalls suppressed event in which an adult deliberately removes a child's digit (some detail); death by drowning; a frightening description.
Sex/Nudity: Report of a married character abandoning her husband to "disgrace herself with a man"; a character tries (unsuccessfully) to watch another character undress; reference to a character possessing "pictures of naked ladies"; adult male kisses adolescent girl several times against her will; reference to a series of romantic admirers.
Mature Subject Matter:
Child exploitation and abuse, Crime (Kidnapping, theft), Socio-economic disparity and deprivation, Death of family members.
Alcohol / Drug Use:
Adult characters drink alcohol and gin. Occasional mention of an adult being drunk. An 11 year old drinks wine with an adult.
Reviewed By Cindy