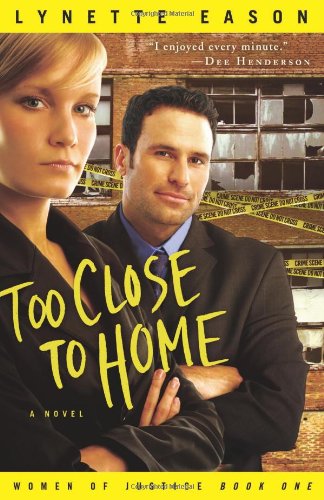 Publisher's Note:
Samantha Cash is the FBI's secret weapon. Her methods are invisible, and she never stops until the case is closed. When missing teens begin turning up dead in a small Southern town, Samantha is assigned to help local chief Connor Wolfe find the killer. And he has two problems with that. There's her faith--in God and herself. And then there's the fact that she looks exactly like his late wife.

As they get close to an answer, the case becomes personal. The killer seems to be taking an interest in Connor's 16-year-old daughter, who thinks her dad is getting way too protective. Can't a girl just have some fun?

Too Close to Home ratchets up the suspense with each page, and will have readers cheering for the characters they love as justice is served and love grows even in the face of danger. Read this one with the lights on!
Too Close to Home
by Lynette Eason
Overall Review:
Too Close to Home is the first book in the Women of Justice series. This book is not a nice, easy comfort read. It is about evil people doing really bad things. While many of the characters profess religious beliefs, it is not a story designed to make one feel happy and uplifted. Now, if that doesn't scare readers away, this piece of fiction has some great, intense action and keeps readers guessing at who is causing all the trouble. Not only does it keep the plot moving forward, but the epilogue of the book is quite different from many and compels the reader to continue with the series.
Content Analysis:
Profanity/Language: None
Violence/Gore: Several mentions of characters found murdered; brief report of character having been assaulted and raped in the past, no details; several instances of characters killing other characters, most, only one or two sentence descriptions, one scene is two pages long, not gory; characters contemplate and execute suicide; characters hit with various objects; characters threatened with guns; character is bleeding due to an abortion.
Sex/Nudity: Non-married characters embrace multiple times, not sexual; non-married characters kiss.
Mature Subject Matter:
Abortion, death of family member, rape, suicide.
Alcohol / Drug Use:
Teens in the story are not actively consuming alcohol, but it is mentioned that they have in the past; character is thought to have been drugged by another.
Reviewed By Susan