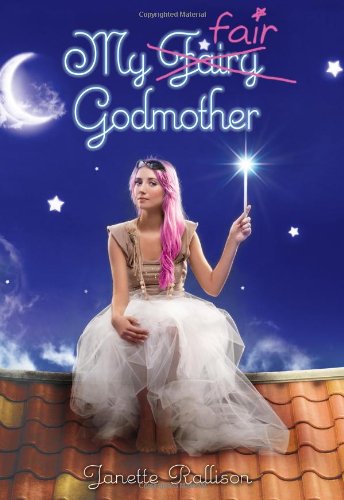 Publisher's Note:
Finding your one true love can be a Grimm experience!
After her boyfriend dumps her for her older sister, sophomore Savannah Delano wishes she could find a true prince to take her to the prom. Enter Chrissy (Chrysanthemum) Everstar: Savannah's gum-chewing, cell phone–carrying, high heel-wearing Fair Godmother. Showing why she's only Fair—because she's not a very good fairy student—Chrissy mistakenly sends Savannah back in time to the Middle Ages, first as Cinderella, then as Snow White. Finally she sends Tristan, a boy in Savannah's class, back instead to turn him into her prom-worthy prince. When Savannah returns to the Middle Ages to save Tristan, they must team up to defeat a troll, a dragon, and the mysterious and undeniably sexy Black Knight. Laughs abound in this clever fairy tale twist from a master of romantic comedy.
My Fair Godmother
by Janette Rallison
Overall Review:
My Fair Godmother is book one of a two book series (left open for more) and accidentally reading this book after My Unfair Godmother (book two) was no issue. Only the fairy godmother and leprechaun are in both books and all other characters are different from book two. The introduction in book two refers to this book but the main story is non-related.
That said, they both follow the same format of modern day teens being transported into Middle Age fairy tales. It was fun to see how the characters adapt to their new lives and how they deal with situations they are forced into. As with the second book, Rallison fills in the blanks that are left out in the fairy tales and her additions are quite funny. She also includes her own take on the characters of the original tale. When the stories collide, things get a little stressful for Savannah, the main character, and her sister, Jane, as their relationship is really put to the test. While this book wasn't as funny as book two, it was still an excellent book. This is a very enjoyable series that leaves you wanting more!
Content Analysis:
Profanity/Language: ***
Violence/Gore: Several (12) brief incidents including threats; implied violence; second hand report of violence; fantasy violence; sword fight.
Sex/Nudity: Many (28) brief instances including kissing; hand holding; hugging; a romantic dream including holding hands & touching arm; innuendo. One extended instance of cuddling.
Mature Subject Matter:
***
Alcohol / Drug Use:
***
Reviewed By Jenny