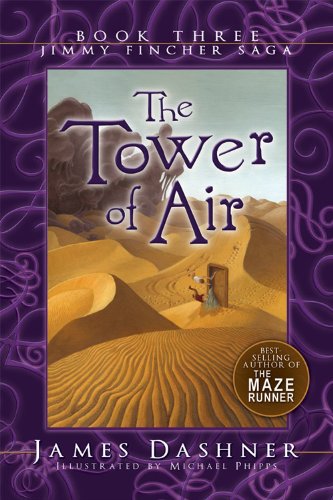 Publisher's Note:
In this exciting third installment of The Jimmy Fincher Saga:
The Tower of Three Days must be found. Jimmy Fincher has been given two powerful Gifts and with them a responsibility he wouldn't wish on his worst enemy. Time is running out and Jimmy, along with his family and the odd bunch of stragglers called The Alliance, finds himself in a desperate search for the Third Gift. Their journey will take them from the depths of the ocean to the scorching sands of the desert. And then it will get weird.
The entire world is on the edge of chaos. The Shadow Ka are evolving. The skies are growing dark with the mysterious taint of the Stompers. Something unspeakable is about to happen to Jimmy's father. A creature made of water will utter a terrible warning. The Black Curtain is ripping once again. And the most terrifying secret of all is about to be revealed at last. The identity of the Stompers. They are no longer coming. They are here.
This book was sent to Compass Book Ratings for review by Bonneville Books
The Tower of Air
by James Dashner
Overall Review:
The third installment of the Jimmy Fincher Saga, The Tower of Air, continues Jimmy's search for the Gifts that will help him defeat "the Stompers" and prevent them from taking over the world. The Tower of Air shows a continued improvement in Dashner's writing, as characters are further developed, dialogue improves, and the 'plot thickens,' so to speak. Dashner has employed some successful subplots and mysteries about several characters which lend intrigue to the story and keep the reader interested. Again, there is blatant foreshadowing, melodramatic language and a tendency to the predictable ; however, it is juvenile fiction and such issues probably would not bother young readers.
Content Analysis:
Profanity/Language: ***
Violence/Gore: A character almost drowns; various attacks and battles with monsters with no injury.
Sex/Nudity: ***
Mature Subject Matter:
Threat of End of the World, Loved one changing into a monster, Threats of death.
Alcohol / Drug Use:
***
Reviewed By Kristen