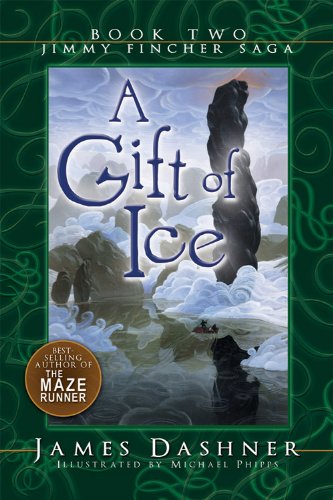 Publisher's Note:
A Gift of Ice continues the fantastic journey for truth that began with A Door in the Woods and will become a four-volume series. The series has been enjoyed by readers of all ages, but it has particularly been a big hit with teenage readers. Book 2 of the Jimmy Fincher Saga Jimmy Fincher cannot be destroyed. In an impossible place under A Door in the Woods, Jimmy received the first of The Four Gifts contributions of a mysterious and desperate people trying to save the world from an enemy unprecedented in ruthlessness. Not much is known about this enemy, or what their purposes may be. But a haunting phrase has been spoken as a warning. The Stompers are coming. Having temporarily sealed the entrance to the Black Curtain —that strange portal from whence the Stompers will come Jimmy has fled to Japan with his family in search of The Second Gift, with only scant clues as their guide. Peril will be inescapable, mysteries will abound. Nothing can be assumed, and help will be found in the least likely of places. The weight of the world will fall upon Jimmy. He is not a wizard. He is not a mutant. He is not a genius. He is far more powerful. He is Jimmy Fincher.
This book was sent to Compass Book Ratings for review by Bonneville Books
A Gift of Ice
by James Dashner
Overall Review:
The Jimmy Fincher Saga continues with A Gift of Ice by James Dashner. Jimmy goes to Japan to search for the Second Gift in his quest to defeat the "Stompers," facing new challenges and meeting some very quirky characters along the way. This book was a vast improvement over the first, as new and more interesting characters were introduced, other characters were fleshed out more, and active dialogue moved the story along at a faster and more dynamic pace. The plot also became more interesting, though somewhat predictable. The narration of Jimmy was still fairly melodramatic and the overall lack of detail leaves the reader feeling somewhat detached, unable to completely visualize the characters and storyline. Overall an improvement on the first book, and the dialogue and lack of detail might not be as much of an issue to younger readers.
Content Analysis:
Profanity/Language: ***
Violence/Gore: Multiple threats of death, destruction of property, people falling out of a speeding train, a character is kicked in the face, motorcycle crashes, fantasy duels, monsters attacking, natural disasters with no injuries.
Sex/Nudity: ***
Mature Subject Matter:
End of the World, Threats of Death.
Alcohol / Drug Use:
***
Reviewed By Kristen