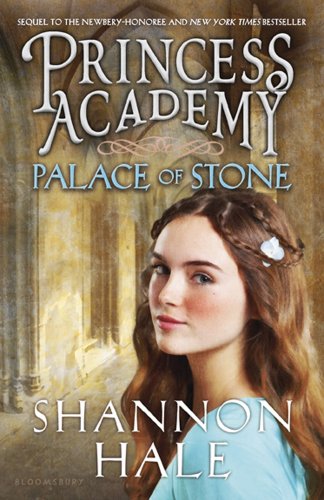 Publisher's Note:
Coming down from the mountain to a new life in the city is a thrill to Miri. She and her princess academy friends have been brought to Asland to help the future princess Britta prepare for her wedding.There, Miri also has a chance to attend school-at the Queen's Castle. But as Miri befriends students who seem sophisticated and exciting she also learns that they have some frightening plans. Torn between loyalty to the princess and her new friends' ideas, between an old love and a new crush, and between her small mountain home and the bustling city, Miri looks to find her own way in this new place. Picking up where Princess Academy left off, and celebrating the joys of friendship, romance and the fate of fairy tale kingdoms, this new book delivers the completely delightful new story that fans have been waiting for.
This book was sent to Compass Book Ratings for review by Bloomsbury Children's Books
Palace of Stone
by Shannon Hale
Overall Review:
I enjoyed Palace of Stone even more than its prequel, Princess Academy. In this fast-paced sequel, Shannon Hale deftly and sensitively weaves a story filled with complex characters, difficult choices, and great courage. I was engaged in the book from the very beginning, and it kept me guessing right up until the end! I appreciated the finely-drawn setting and the lack of easy answers. I also loved Miri's determination to do what is right, even when it seems impossible. Palace of Stone is a great read both for previous fans of Shannon Hale and for those who are just discovering the author. Although it is a sequel, it would work well as a stand-alone novel also.
Content Analysis:
Profanity/Language: ***
Violence/Gore: A political assassination is attempted (unsuccessfully). A hypothetical story is told about a murderer and a fire. A bookshelf falls on a character. A group of characters meet often to discuss rebellion; their discussions sometimes include threats of violence toward political figures. Shots are fired at a carriage. Stories are told of a rebellion in another country in which the king and queen were beheaded; several references are made to these events, but never in detail or with gore. A boy is endangered by a carriage. Two teenagers tussle. Characters threaten each other verbally.
Sex/Nudity: Characters flirt, hold hands, and kiss on several (around 10) occasions. All incidences are very chaste and demure.
Mature Subject Matter:
Betrayal, choosing alliances, courage to do what is right even when it seems impossible.
Alcohol / Drug Use:
***
Reviewed By CindyB