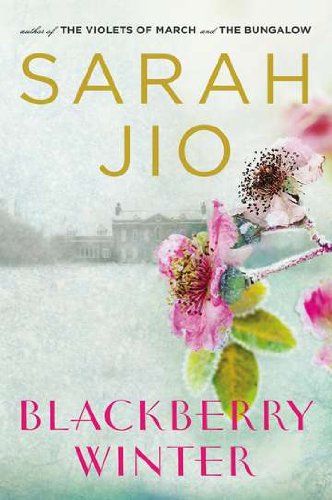 Publisher's Note:
In 2011, Sarah Jio burst onto the fiction scene with two sensational novels--The Violets of March and The Bungalow. With Blackberry Winter--taking its title from a late-season, cold-weather phenomenon--Jio continues her rich exploration of the ways personal connections can transcend the boundaries of time.

Seattle, 1933. Single mother Vera Ray kisses her three-year-old son, Daniel, goodnight and departs to work the night-shift at a local hotel. She emerges to discover that a May-Day snow has blanketed the city, and that her son has vanished. Outside, she finds his beloved teddy bear lying face-down on an icy street, the snow covering up any trace of his tracks, or the perpetrator's.

Seattle, 2010. Seattle Herald reporter Claire Aldridge, assigned to cover the May 1 "blackberry winter" storm and its twin, learns of the unsolved abduction and vows to unearth the truth. In the process, she finds that she and Vera may be linked in unexpected ways...
This book was sent to Compass Book Ratings for review by Penguin Group
Blackberry Winter
by Sarah Jio
Overall Review:
What lengths would we go to justify our personal definition of family? Would we leave our children unattended to go to work if we had to? Would we rob, steal, or kill to save a child?
As Claire begins her research on the freak storm (the blackberry winter) for her newspaper feature, she stumbles onto a story that resonates deep within her. While bouncing back and forth between her story and that of Vera Ray, we discover a web of secrets and surprising discoveries. These change all of Claire's perceptions and thoughts about what she has endured and brings her that much closer to the closure and healing that she has been striving to achieve.
Blackberry Winter is, when it comes right down to it, all about families: the grief of losing loved ones (a mother should never lose a child), the healing that has to come before you can move on, finding yourself and your place in the world after tragedy, and making restitution with those you have wronged. It tells of how marriages and families can be ripped apart by secrets and by lack of communication.
Some of the ties and discoveries are a bit of a stretch, perhaps a little too convenient, but it makes a great story nonetheless! And while not every person has a happy ending, there is enough happiness and closure to make the story very real and very enjoyable.
Family ties resonate in this story. The characters are so real and tangible. You ache for the poverty and the desperation and wonder at the corruption and apathy from the wealthy and those who are supposed to be protecting them. Blackberry Winter is a tale that is both touching and satisfying.
Content Analysis:
Profanity/Language: 21 religious exclamations; 7 mild obscenities; 2 derogatory terms.
Violence/Gore: A pregnant character is hit by a car and a death results; a fire destroys some personal property; there is a breaking and entering robbery (no one is injured, but there is some destruction of property); a character is accused of domestic violence and murder; a character is drowned (foul play is suspected); a character falls and dies; a character is abducted; a character tries to violently harass another.
Sex/Nudity: There are many instances of characters holding hands, kissing, hugging, flirting, etc.; a character is nude in a department store (she is being dressed by an attendant and is embarrassed); a few references to the clothing of women and how they look in their dresses; Drunks call out to women saying slightly offensive things (many instances); references to a rich patron having mistresses; a character is nude in bed (but is covered by a sheet); a few (3) 'behind closed doors' scenes without explicit detail; a character is concerned that her spouse is having an affair; a character becomes the mistress; a character threatens to take other forms of payment for rent if a the tenant can't come up with the money.
Mature Subject Matter:
Kidnapping, Murder, Trauma, Family Secrets, Extreme Poverty, Marriage and Family Relations, Death/Disappearance of Children.
Alcohol / Drug Use:
There are many references to characters drinking wine and/or beer with their meals. A few characters become very drunk. There are a few references to characters smoking.
Reviewed By Emily