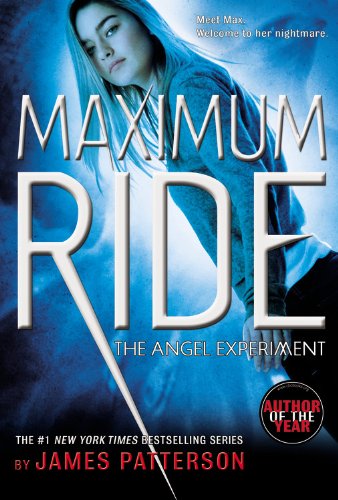 Publisher's Note:
In James Patterson's blockbuster series, fourteen-year-old Maximum Ride, better known as Max, knows what it's like to soar above the world. She and all the members of the "flock"--Fang, Iggy, Nudge, Gasman and Angel--are just like ordinary kids--only they have wings and can fly. It may seem like a dream come true to some, but their lives can morph into a living nightmare at any time...like when Angel, the youngest member of the flock, is kidnapped and taken back to the "School" where she and the others were experimented on by a crew of wack jobs. Her friends brave a journey to blazing hot Death Valley, CA, to save Angel, but soon enough, they find themselves in yet another nightmare--this one involving fighting off the half-human, half-wolf "Erasers" in New York City. Whether in the treetops of Central Park or in the bowels of the Manhattan subway system, Max and her adopted family take the ride of their lives. Along the way Max discovers from her old friend and father-figure Jeb--now her betrayed and greatest enemy--that her purpose is save the world--but can she?
Maximum Ride: The Angel Experiment
by James Patterson
Overall Review:
Maximum Ride: The Angel Experiment by James Patterson is exactly what its title says--a a ride. This book is not about character development, dialogue, or writing style; it is all about the plot and action. Laid out in ultra-short chapters and told mostly in first person by the protaganist, Max, this is a thriller that unrelentingly propels forward, driven by action. Although the protagonist is a female, the format and style of this book very much have guy appeal written all over it.
The ending pauses the storyline more than concludes it. Maximum Ride: The Angel Experiment is the first book in a series that should appeal to young adult fans--both male and female.
Content Analysis:
Profanity/Language: 38 religious exclamations, 1 offensive hand gesture.
Violence/Gore: Brief scene in which characters are attacked with punching, hitting, kicking, etc. (general description); a kidnapping; talk about sectioning a character's brain for scientific purposes; cruel experiments on a character; a character is zapped with an electric device; a scene (2-3 pages, general descriptions) in which character fights bullies with punching, hitting, etc. resulting in a bloody nose, cracked ribs, injury by gunshot; a car crash; an explosion resulting in 2 deaths (non-detailed); three seperate fight scenes involving kicking, hitting, bleeding from nose, etc.; a character bites another characters hand drawing blood; a character dies from non-violent causes; a brief fight involving kicking, punching, etc. resulting in a human death (non-detailed, but somewhat emotional).
Sex/Nudity: A character kisses another character.
Mature Subject Matter:
Scientific ethics, genetic experimentation, exploitation of children, death.
Alcohol / Drug Use:
***
Reviewed By Cindy