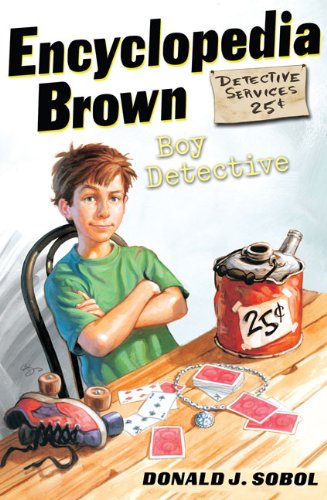 Publisher's Note:
Leroy Brown, aka Encyclopedia Brown, is Idaville neighborhood?s ten-year-old star detective. With an uncanny knack for trivia, he solves mysteries for the neighborhood kids through his own detective agency. But his dad also happens to be the chief of the Idaville police department, and every night around the dinner table, Encyclopedia helps him solve his most baffling crimes. And with ten confounding mysteries in each book, not only does Encyclopedia have a chance to solve them, but the reader is given all the clues as well. Interactive and chock full of interesting bits of information, it's classic Encyclopedia Brown!
Encyclopedia Brown, Boy Detective
by Donald J. Sobol
Overall Review:
First published in 1963, Encyclopedia Brown, Boy Detective, by the recently deceased Donald J. Sobol, has become a classic and an introduction to the powers of observation. This book is a collection of chronological, but unrelated mysteries. Each case is only about 10 pages long and unlike so many mysteries, all the clues necessary to solve are provided to the reader. The mysteries are simple, but require the reader to note carefully the wording and facts in order to solve. The answer to each case is provided in the back of the book.
Encyclopedia Brown, a 10 year old in fifth grade, is a charming character and the story-telling is straightforward. The format is great for reading aloud and for early readers who might be intimidated by lengthy chapters or books. Encyclopedia Brown, Boy Detective could be enjoyed by readers as young as 7. If you haven't made his acquaintance, you really should!
Content Analysis:
Profanity/Language: None
Violence/Gore: Child gives another child a "swift right to the jaw" and then a "left to the jaw", related in a humorous manner.
Sex/Nudity: None
Mature Subject Matter:
***
Alcohol / Drug Use:
***
Reviewed By Cindy