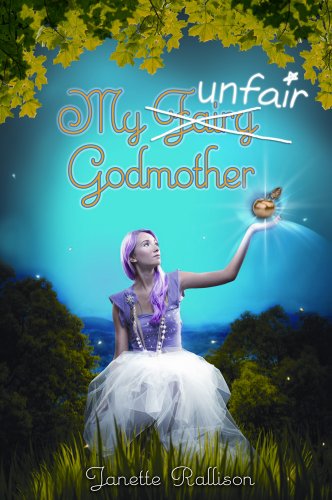 Publisher's Note:
Tansy Miller didn't mean to end up on the wrong side of the law—being caught with a can of spray paint, on a date, wasn't exactly planned. Enter Chrysanthemum "Chrissy" Everstar, Tansy's fair godmother, who still has a few things to learn about granting wishes. When Tansy is transported to the Middle Ages to recreate the Rumpelstiltskin tale, Tansy will need the help of her family, her wits, and especially the cute police chief 's son, Hudson, to stop the gold-spinning story from spinning wildly out of control.
This book was sent to Compass Book Ratings for review by Bloomsbury Children's Books
My Unfair Godmother
by Janette Rallison
Overall Review:
This book is hilarious! At first glance, it appears to be a simple, "girly" book with no depth, but Janette Rallison really surprised me. The dialogue is quirky, witty, and enjoyable to read. It is a fairy tale within a few more fairy tales and the heroine gets to decide her own fate, but that's a tricky thing to do when she is unsure what she wants the outcome to be! Rallison takes the liberty of filling in the pieces that were left for interpretation in the original fairy tales and it was entertaining and occasionally thought-provoking to read what she added to the stories. Rallison is good at building the suspense in several scenes and is even able to bring readers to tears at few times (some from sadness, some from joy).
This is actually book two of My Unfair Godmother series, but it appears that only one character, the fairy godmother, is the same so it wasn't difficult to follow without having read book one first. There's something in here for both male and female audiences and I highly recommend My Unfair Godmother to ages 12 and up.
Content Analysis:
Profanity/Language: ***
Violence/Gore: Few (5) brief incidents including verbal threats; second hand report of boy's mother dying; theft and vandalism. One extended incident of vandalism.
Sex/Nudity: Many (30) brief incidents including hugging; holding hands; kissing; touching face. One extended incident including flirting and touching back.
Mature Subject Matter:
Death of a family member; Family disappearance.
Alcohol / Drug Use:
Minors drinking mentioned; brief drunk driving incident.
Reviewed By Jenny