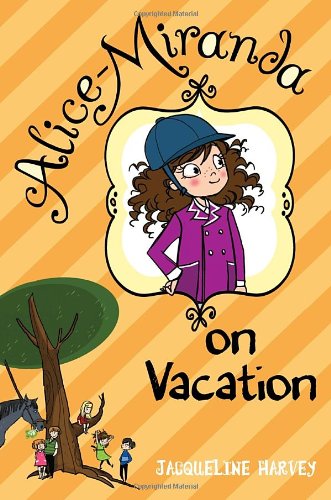 Publisher's Note:
Book #2 in the adventures of a precocious and endearing heroine full of can-do spirit, good-heartedness, and zest for life.

Alice-Miranda Highton-Smith-Kennington-Jones has survived her first semester at boarding school. Now she's headed home for break—and she's invited Jacinta Headlington-Bear, the school's second-best tantrum thrower, to join her. The two girls are looking forward to a fun mini-vacation. Nothing too eventful! But a cranky boy is causing mischief, a movie star has come to visit, and a stranger is snooping around. Add a naughty pony, a hint of romance, and a dastardly scheme, and Jacinta and Alice-Miranda might have a more exciting time than they ever expected. . .
This book was sent to Compass Book Ratings for review by Delacorte Books
Alice-Miranda on Vacation
by Jacqueline Harvey
Overall Review:
I am hooked on Alice-Miranda, the heroine of ALICE-MIRANDA ON VACATION. I am so hooked that after having finished the second book, I am going to hunt down the first book in this series, ALICE-MIRANDA AT SCHOOL and read it. Jacqueline Harvey has created a character every young girl would love to be. She is rich, smart, loving; in addition, she lives in a big house, rides horses, and has adoring parents, and yet Alice-Miranda never steps over that line of becoming too perfect. She remains consistently charming and true to herself. With Miranda at the center, Ms. Harvey adds other questionable characters and the reader can't wait to find out who is friend or villain and what diabolical plot they are up to. The author was able to keep me guessing for quite a while. With many characters from the first book in addition to all the new people included in the second story, Ms. Harvey has included a cast of characters in the back of the book so you can keep yourself straight. These characters rev up action, so that there are surprises right through to the end. Luckily, this second book is not the last in the series. More are in the works for U.S. publication. Alice-Miranda fans, rejoice!
Content Analysis:
Profanity/Language: None
Violence/Gore: Attempted kidnapping which is almost humorous in nature.
Sex/Nudity: None
Mature Subject Matter:
***
Alcohol / Drug Use:
***
Reviewed By Marilyn