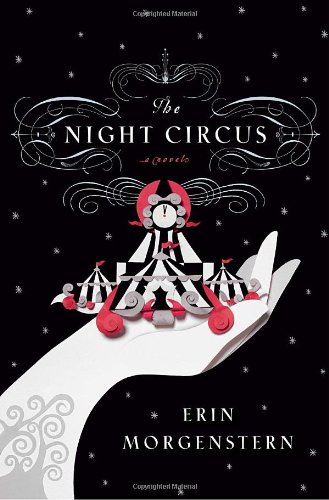 Publisher's Note:
The circus arrives without warning. No announcements precede it. It is simply there, when yesterday it was not. Within the black-and-white striped canvas tents is an utterly unique experience full of breathtaking amazements. It is called Le Cirque des Rêves, and it is only open at night.

But behind the scenes, a fierce competition is underway—a duel between two young magicians, Celia and Marco, who have been trained since childhood expressly for this purpose by their mercurial instructors. Unbeknownst to them, this is a game in which only one can be left standing, and the circus is but the stage for a remarkable battle of imagination and will. Despite themselves, however, Celia and Marco tumble headfirst into love—a deep, magical love that makes the lights flicker and the room grow warm whenever they so much as brush hands.

True love or not, the game must play out, and the fates of everyone involved, from the cast of extraordinary circus per­formers to the patrons, hang in the balance, suspended as precariously as the daring acrobats overhead.

Written in rich, seductive prose, this spell-casting novel is a feast for the senses and the heart.
The Night Circus
by Erin Morgenstern
Overall Review:
Reading The Night Circus is like entering a magical dream, but without having to fall asleep. Mysterious and unexpected, readers will fall for this breathtaking story of illusions, magic, and romance. First-time author Erin Morgenstern blends rich, beautiful prose with an intricate and interesting plot. Complex and memorable characters dot each page and dazzling setting descriptions bring this narrative to life. Readers will not regret picking up a copy of this exquisite concoction!
Content Analysis:
Profanity/Language: 3 religious exclamations; 5 mild obscenities; 1 religious profanity; 2 derogatory names and 1 f-word derivative
Violence/Gore: A character recalls her mother hanging herself; an adult slits open a child's fingertips with a knife; an adult smashes a child's wrist with a paperweight; a woman steps in front of a train and is killed without detail; a knife is thrown and kills a character without detail; a character stabs her hand with a dagger
Sex/Nudity: Passionate kissing occurs between main characters a few times; a brief scene of sexual activity, without explicit details, occurs between two adults.
Mature Subject Matter:
Love, death, suicide, child abuse, magic, paranormal.
Alcohol / Drug Use:
Indivduals drink wine on occasion.
Reviewed By Rachel