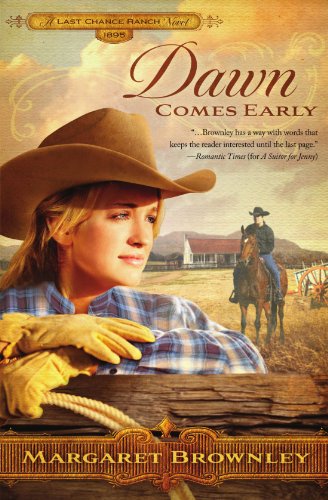 Publisher's Note:
Looking for a woman of good character and pleasant disposition willing to learn the ranching business in Arizona territory. Must be SINGLE and prepared to remain so now and forever more. Will be given ownership of ranch. -Eleanor Walker
Disgraced dime novelist Kate Tenney fled the city that banned her latest book for a fresh start at a cattle ranch in the Arizona Territory. She hopes ranching turns out to be as romantic as she portrayed it in her novels.
But what awaits her is a much harder life. There is no room for mistakes on a working cattle ranch in 1895, and Kate is ill-prepared for her new life. She quickly learns that dawn comes early . . . every day. But she is tenacious.
Having been abandoned by a string of men, Kate has no intention of ever marrying. But she didn't expect to meet Luke Adams either. Luke awakens feelings inside Kate she doesn't recognize, and his steady presence is a constant distraction. She has only written about love in the past, never known it herself. But her feelings for Luke stand in the way of all she has to gain if she is chosen as the heir.
Perhaps God brought Kate to the barrenness of the desert to give new life to her jaded heart.
This book was sent to Compass Book Ratings for review by Thomas Nelson
Dawn Comes Early
by Margaret Brownley
Overall Review:
Dawn Comes Early is the first book in the Last Chance Ranch series. Margaret Brownley is clearly not writing this story with the intention of strictly adhering to reality. In fact, this tale seems to be the result of the author saying, "What if..." and then putting her ideas into words. Thinking of the situations in which characters find themselves is almost comical. Cactus Joe, Marshall Morris and Eleanor Walker all portray extreme personalities that seem a little too farfetched to be encountered in ordinary life. That being said, the charm of this book lies in its unlikely characters and unbelievable situations. Anyone looking for a flavor of the late 1800's mixed with quirky characters and lighthearted fun will enjoy reading Dawn Comes Early.
Content Analysis:
Profanity/Language: None.
Violence/Gore: Characters threaten others with guns; characters shoot other characters, little detail; characters grab other characters; characters hit one another.
Sex/Nudity: Character has bare bottom for medical treatment; non-married characters embrace and kiss on lips and cheeks; married characters kiss and hug.
Mature Subject Matter:
Abuse, abandonment, robbery, death of family member.
Alcohol / Drug Use:
Characters drink themselves to death; a few characters mentioned as being in a drunken state.
Reviewed By Susan