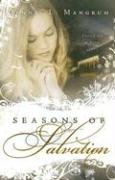 Publisher's Note:
The students piled the packages high on the porch, rapped quickly on the door, and then secreted themselves nearby. Finally, a sleepy-eyed little boy opened the door and stared wide-eyed at the mountain of Christmas presents. Santa's sleigh crashed right here on my porch! In this heartwarming, feel-good story based on an actual event, distrust, abandonment, and lack of hope give way to love and service in an early morning seminary class full of problem kids who help their teacher pay an overdue debt of gratitude. Seasons of Salvation is about a young girl abandoned at birth. It's about a mother finding a daughter. It's about a group of ordinary students caught up in doing extraordinary things. And it's about everyone who wants to make a difference in the world.
Seasons of Salvation
by Dennis L. Mangrum
Overall Review:
Seasons of Salvation does not tell the story of a hopeless girl--it shows it. The skilled writing takes readers on a journey through the life of an abandoned, seemingly hopeless young girl. Cheyenne, just like everyone in the world, yearns to be loved.
Someone recognizes her as a "pearl of great worth" and Cheyenne begins to recognize what real love is. She may have been abandoned at a 7-Eleven as a baby, but now she has a mother who needs and wants her. Cheyenne would do anything to bring a smile to her new mother's face, but why stop there? Cheyenne's love can help an entire community come together.
Seasons of Salvation will help readers understand the gift of love and all it has to offer. Readers of both genders, from their teens to their grandparent status, will enjoy the story of a girl searching for hope and a community searching for charity.
Content Analysis:
Profanity/Language: ***
Violence/Gore: Girl is pushed into the snowbank; character is ran into by a another character and knocked off her feet.
Sex/Nudity: Holding hands; two kisses on the cheek; two kisses on the nose; arm around shoulders.
Mature Subject Matter:
Abandonment; Adoption; Social Economic Conflict; Death.
Alcohol / Drug Use:
***
Reviewed By Megan