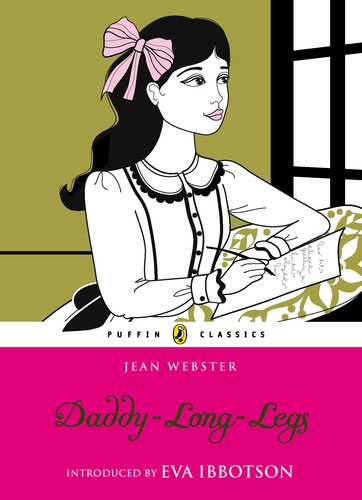 Publisher's Note:
This is the much-loved tale of Judy Abbott, a lively, endearing young girl growing up in an orphanage. Her dreams of college seem in vain until the unknown benefactor offers to pay for her tuition. The only requirements are that she must write to him every month, and that she can never know who he is. Judy's letters to him about life at college are full of her hopes and dreams, troubles, and a growing friendship with the handsome Jervis Pendleton. With so much going on in her life, Judy can scarcely stop writing, and when she discovers who daddy long-legs is, there is a happily-ever-after surprise.
Daddy Long Legs
by Jean Webster
Overall Review:
What a fun, happy, hilarious, enchanting little book! It made me want to go out and adopt an orphan and send them to college and make them write me letters every month, just to see what they'd say! 'Daddy-Long-Legs' is written entirely in letter form as Jerusha Abbot, a foundling from an orphanage, writes monthly letters to her benefactor. He is unknown to her, but her letters wax eloquent anyway. I loved the growth of Jerusha (who renames herself 'Judy') as she goes from an awkward and slightly miserable girl, to a happy, plucky woman. Her writing is hilarious! Judy has almost no tact and says exactly what comes into her mind, which sometimes took me off guard and I would throw my head back and laugh out loud. I loved how she often would be grouchy and unhappy, then turn around and apologize profusely and promise to be extremely good forever after (or at least a few weeks)! The descriptions and views of life we get from her are enchanting! She is an orphan experiencing the 'real world' for the first time, and it is so well done! Everything is fresh and new: Friends, college, foods, roommates, farms, literature, music, art, studies…Everything! The little things make a difference to her, and since she was seeing things for the first time, her eye for detail and the freshness with which she describes everything is innocent and exciting all at the same time! Her lessons on 'morality' are sometimes thought provoking and other times funny and sarcastic. All of this she writes to someone she has never even met! She doesn't even know his real name! Of course, this brings about a sweet strain of romance that made me smile. The attention to detail is lovely and thorough and adds to the delightful and innocent charm—it's as if we're discovering the whole world and everything in it all over again! Beautiful!
Content Analysis:
Perfect. That is what this book is. It's perfectly funny, perfectly sweet, and perfectly clean. You can't get much better than that! There was one time that a character mentions where you would go if you didn't listen to and act accordingly to all that a preacher said (she said it facetiously and wasn't 'swearing'). Other than that, it's…perfect. It is a classic, and has 'older' language, which is why I put the age at 14, but if you have a younger child who loves classics, give them this title!
Mature Subject Matter:
***
Alcohol / Drug Use:
***
Reviewed By Emily