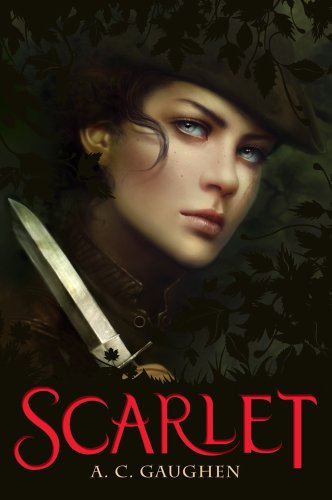 Publisher's Note:
Many readers know the tale of Robin Hood, but they will be swept away by this new version full of action, secrets, and romance. Posing as one of Robin Hood's thieves to avoid the wrath of the evil Thief Taker Lord Gisbourne, Scarlet has kept her identity secret from all of Nottinghamshire. Only the Hood and his band know the truth: the agile thief posing as a whip of a boy is actually a fearless young woman with a secret past. Helping the people of Nottingham outwit the corrupt Sheriff of Nottingham could cost Scarlet her life as Gisbourne closes in. It's only her fierce loyalty to Robin—whose quick smiles and sharp temper have the rare power to unsettle her—that keeps Scarlet going and makes this fight worth dying for.
This book was sent to Compass Book Ratings for review by Bloomsbury Children's Books
Scarlet
by A.C. Gaughen
Overall Review:
A fantastic retelling of the classic, Robin Hood, with a new twist! Most think Scarlet is a boy and refer to her as Will Scarlet, which is exactly as she wants it. As in the original story Scarlet is one of the outlaws who helps Robin "rob the rich to feed the poor." Scarlet may not be as strong as the other men, but she's every bit as valuable to the group and constantly proves this. She's extremely smart and talented when it comes to being a thief, but she completely misses the fact that someone is interested in her romantically and it's a bit comical to see how dense she is to this. Gaughen is great at building the suspense in several scenes and does a phenomenal job of making the bad guys extremely unlikeable. There's just enough of the original story to make it comfortably familiar, but also plenty of surprises with the new perspective to make it very entertaining. This is an excellent book and will be enjoyed by both male and female audiences ages 14 and up.
Content Analysis:
Profanity/Language: 37 religious exclamations; 37 mild obscenities; 5 religious profanities; 7 derogatory names.
Violence/Gore: Many (31) brief incidents including physical and verbal threats; second hand report of suicide; abuse (a few incidents with very little detail); fighting with swords, knives and bow and arrows; second hand report of war; very brief mention of murder with little detail; torture (someone mentions they hear it once); hunting;second hand report of family death; building set on fire. Few (2) extended incidents including two fights resulting in death.
Sex/Nudity: Many (29) brief incidents including kissing; holding hands; hugs; touching face and hand; cuddling; innuendo (very little detail); mention of unmarried pregnant girl.
Mature Subject Matter:
Law-breaking, abuse, suicide, death of a family member, poverty/startvation, war.
Alcohol / Drug Use:
Drunk men in a bar; minors drinking.
Reviewed By Jenny