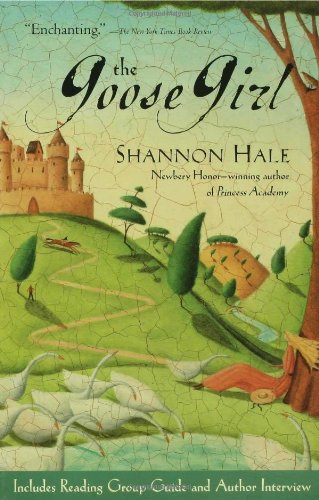 Publisher's Note:
A stunning fairy tale debut
Anidori-Kiladra Talianna Isilee, Crown Princess of Kildenree, spends the first years of her life listening to her aunt's stories and learning the language of the birds, especially the swans. As she grows up Ani develops the skills of animal speech, but is never comfortable speaking with people, so when her silver-tongued lady in waiting leads a mutiny during Ani's journey to be married in a foreign land, Ani is helpless and cannot persuade anyone to help her. She becomes a goose girl and must use her own special, nearly magical powers to find her way to her true destiny.
From the Grimm's fairy tale of the princess who became a goose girl before she could become queen, Shannon Hale has woven an incredible and original tale of a girl who must find her own unusual talents before she can lead the people she has made her own.
This book was sent to Compass Book Ratings for review by Bloomsbury USA
The Goose Girl
by Shannon Hale
Overall Review:
Shannon Hale delivers again with this sensational book one of the completed four-book Bayern series. While it is an easy read, it took me a few pages to get interested, but once I did it was difficult to put down. As a variation of the Brother's Grimm story by the same title, this is not your typical princess story, but includes action, suspense, lies, and a magical princess. It is intriguing to watch how Princess Anidori-Kiladra's special abilities develop and to see how she uses them. Unfortunately, these abilities don't completely protect the princess from the very persuasive villainess and her minions; some seriously evil people who you love to hate. Luckily, the princess has some unusual but fiercely loyal followers and friend. Of course we enjoy a sweet, yet forbidden love story intertwined amongst the belligerence and deception. This fantastic story will appeal to those who enjoy a good fairy tale with some exciting deviations.
Thoughts on the audiobook version by book reviewer, Amber: Although I have loved this story since I first read the book, I did not find the audiobook version to be as well done as I had hoped. The audiobook was a full cast audio, which would have been fine, but the main narrator did not have a particularly grasping voice. Overall, I did still enjoy listening to the book, but I think it could have been done better. If you have the time to pick up and read the book, I would do that instead of listening to the audiobook. However, if you know you won't have time to read the book unless you listen to it on a road trip, I would say it is still worth the listen. The story is still well written, either way.
Content Analysis:
Profanity/Language: None
Violence/Gore: Several (11) brief incidents including verbal threat; mother slaps daughter; people getting hung; fights and battles resulting in people and animals getting hurt and dying. Few (5) extended incidents including character being held against will; battles resulting in injuries and death.
Sex/Nudity: Several (14) brief incidents including holding hands; kissing; innuendo; characters holding each other; touching arms and face; story related of women removing tops of dresses to symbolically motivate husbands to return to battle and defend their homes.
Mature Subject Matter:
Parent dying, war, battles & killing, treason.
Alcohol / Drug Use:
None
Reviewed By Jenny