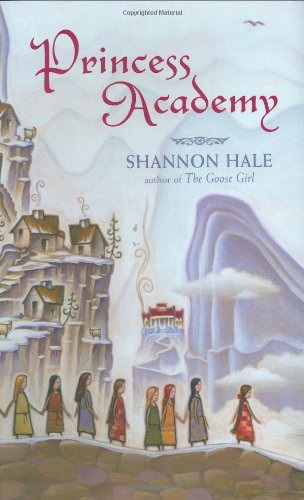 Publisher's Note:
Miri lives on a mountain where, for generations, her ancestors have quarried stone and lived a simple life. Then word comes that the king's priests have divined her small village the home of the future princess. In a year's time, the prince himself will come and choose his bride from among the girls of the village. The king's ministers set up an academy on the mountain, and every teenage girl must attend and learn how to become a princess.

Miri soon finds herself confronted with a harsh academy mistress, bitter competition among the girls, and her own conflicting desires to be chosen and win the heart of her childhood best friend. But when bandits seek out the academy to kidnap the future princess, Miri must rally the girls together and use a power unique to the mountain dwellers to save herself and her classmates.
This book was sent to Compass Book Ratings for review by Bloomsbury Children's Books
Princess Academy
by Shannon Hale
Overall Review:
Shannon Hale has an exceptional talent for developing the characters in her books and Princess Academy is no exception. The main character of this book is 14-year-old Miri who is from a very small village in the mountains. One minute you love her for her kindess and ability to make others laugh, then she drives you crazy with her self-centered "woe is me" attitude, and next you admire her for her strength and bravery. Miri and the other girls from her village are given a very unexpected, and what some might consider undeserving, opportunity to become a princess. Before meeting the prince though, they have much to be taught as they are very uneducated.
It was fun to see how a little bit of learning could be so life-changing for these girls and their small village and how each girl used her new skills and knowledge so differently. It was also interesting to see how each girl got something different out of attending the academy and how their dream of wanting or not wanting to be princess changed for many of them. A princess story would not be complete without a little romance and this book does not disappoint. I love this book and highly recommend it!
Audiobook review: Princess Academy comes in a full cast audiobook form. The cast and narrator are all right, but they aren't top notch. Reading the solid copy of the book might be a better choice. But the audiobook isn't awful, probably because the original book is so good. - Amber, CBR Reviewer
Content Analysis:
Profanity/Language: None
Violence/Gore: Few (9) brief incidents including verbal threats; knife at chest; adult beat-up by another adult; children getting lashings; children getting tied up and hit; man falls off mountain and dies.
Sex/Nudity: Few (5) brief incidents including holding hands and kissing.
Mature Subject Matter:
Death of a family member; Hostage situations.
Alcohol / Drug Use:
None
Reviewed By Jenny