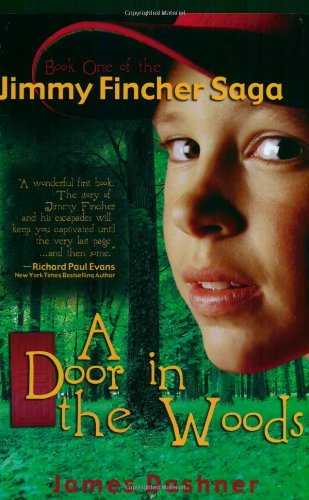 Publisher's Note:
What begins as a summer-day climb up his favorite tree quickly takes an ugly turn for poor Jimmy Fincher, as he witnesses something that turns his perception of reality upside-down. When the perpetrator of the act notices Jimmy in the tree, the ensuing adventures explode into a torrent of suspense and excitement.
The next month of Fincher's life includes an ancient legend come to life, a conspiracy of madmen decades old, strange portals to other worlds, villains named everything from Raspy to Shadow and behind it all is the old wooden door in the forest by Jimmy'Â's home. There, something wondrous awaits.
This book was sent to Compass Book Ratings for review by Bonneville Books
A Door in the Woods
by James Dashner
Overall Review:
Having read MazeRunner and the Thirteenth Reality books by James Dashner, I picked up A Door In the Woods with high expectations. Sadly, I was disappointed. This book has the potential to be a good story, but elements of the storytelling prevent the reader from connecting to the tale.
The tale is told solely in first person, past-tense by the "hero" Jimmy Fincher, a thirteen-year-old boy whose whole world is turned upside-down one day in the woods after witnessing the impossible. It sounds very dramatic, yet the reader is unable to really dive into the tale because of little to no character development, over-dramatic language, and one-dimensional and tedious dialogue. The looming threat of sinister monsters destroying the world is difficult to swallow at best, since the monsters and their subsequent horrors are never described in any detail, and all we really know of them is their thoroughly unimaginative name: "The Stompers." The truly frustrating thing is recognizing that this could have been a good story with a little more direction, description, and editing. Hopefully later books in the series flesh out this story to make it more believable and relatable.
Content Analysis:
Profanity/Language: ***
Violence/Gore: A character is forced into "blackness," character is kidnapped, threatened several times, attacked by monsters; a character is kicked in the face, another is pushed of a speeding boat, bland description of a bomb victim (miraculously healed), another character shot in the leg, a character is captured by monsters. All violence has a cartoon element since no one is permanently injured or dies.
Sex/Nudity: ***
Mature Subject Matter:
Kidnapping, Threats on Life and Health, End of the World.
Alcohol / Drug Use:
***
Reviewed By Kristen