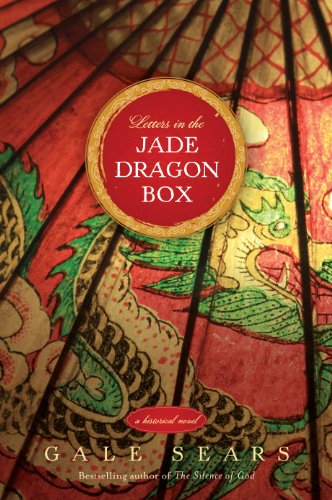 Publisher's Note:
From the bestselling author of The Silence of God comes a new LDS historical novel that reveals the harrowing true story of a former general in the Chinese army who became one of the first converts to the Church in Hong Kong. This compelling drama unfolds through the eyes of a teenage girl, Wen-shan, who was taken from her family home in mainland China during the Cultural Revolution to live with her great-uncle the former general. For ten years, Wen-shan has carried the sorrow of abandonment in her heart, with few memories of her life before. But at the death of Chairman Mao, Wen-shan receives a mysterious wooden box that reveals the fate of the family she has not heard from in more than a decade. Through the letters in the jade dragon box, Wen-shan and her great-uncle discover a bond between each other, their family, and the gospel of Jesus Christ.
This book was sent to Compass Book Ratings for review by Deseret Book
Letters in the Jade Dragon Box
by Gale Sears
Overall Review:
"It begins with a death." From the first line in the book Gale Sears draws a reader into the story of a family torn apart under communist rule.
Wen-shan is sent away to Hong Kong to escape the rule of Mao Tse-tung and at age fifteen and she is old enough to want some answers. This book explains not only the answers to the character's personal questions, but also the history and general culture taking place in 1970s China. Any reader will take away a stronger knowledge of the ways of a country whose history is rarely told in the United States, as well as an understandning of the struggles an individual would have gone through at that time.
Lenin may have called young people "useful idiots," but Wen-shan is far from the definition of idiot. Letters in the Jade Dragon Box explores her strength and determination in a way that appeals to men and women. A reader must be willing to put in the effort to try to understand the book fully, but once they do they will be drawn in to an adventure unlike many fiction books today.
Content Analysis:
Profanity/Language: ***
Violence/Gore: Two characters are shot; forced starvation to death; character breaks another character's hands; forced to kneel on broken pottery, resulting in injury; report of torture to death; second hand report of murder; foot binding; killing of sparrows; several instances of general physical abuse.
Sex/Nudity: ***
Mature Subject Matter:
Abuse/torture; child abuse; war; social conflict; separation; murder.
Alcohol / Drug Use:
***
Reviewed By Megan