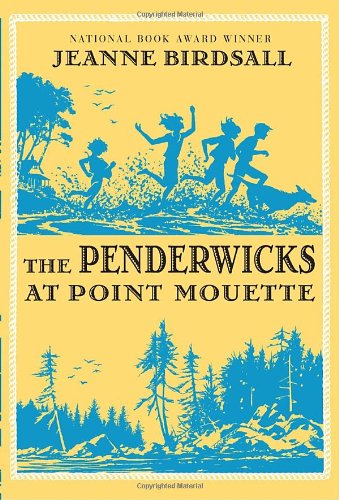 Publisher's Note:
When summer comes around, it's off to the beach for Rosalind . . . and off to Maine with Aunt Claire for the rest of the Penderwick girls, as well as their old friend, Jeffrey.


That leaves Skye as OAP (oldest available Penderwick)—a terrifying notion for all, but for Skye especially. Things look good as they settle into their cozy cottage, with a rocky shore, enthusiastic seagulls, a just-right corner store, and a charming next-door neighbor. But can Skye hold it together long enough to figure out Rosalind's directions about not letting Batty explode? Will Jane's Love Survey come to a tragic conclusion after she meets the alluring Dominic? Is Batty—contrary to all accepted wisdom—the only Penderwick capable of carrying a tune? And will Jeffrey be able to keep peace between the girls . . . these girls who are his second, and most heartfelt, family?

It's a rollicking ride as the Penderwicks continue their unforgettable adventures in a story filled with laughs and joyful tears!
The Penderwicks At Point Mouette
by Jeanne Birdsall
Overall Review:
It took a long time for The Penderwicks At Point Mouette to come in for me at my local library. During the waiting time, while I was busy reading other books, I often found myself missing Rosalind, Skye, Jane, Batty, and Jeffrey, and wishing that I could immerse myself in their latest adventure. When I finally did get the book, The Penderwicks At Point Mouette did not disappoint! Although I missed Rosalind, who was absent for most of the book, I loved every page of this third installment in the Penderwicks series. By turns laugh-out-loud funny and deeply touching, The Penderwicks At Point Mouette is perfect for children and adults who love well-crafted, old-fashioned storytelling with a cast of vibrant, multi-faceted, loveable characters. This is definitely the kind of series I can see myself owning to read over and over again! I'll be eagerly awaiting the sequel!
Content Analysis:
Profanity/Language:
***
Violence/Gore: A woman falls and sprains her ankle. A girl falls on her face and ends up with a bloody nose. A girl worries about crazy calamities that could befall her younger sister (such as "blowing up").
Sex/Nudity: A young teenager has a boyfriend. Several preteens flirt very gently. A preteen girl has a crush on a boy and says that she is "in love" with him. A preteen girl and preteen boy kiss (very brief and chaste). A preteen boy asks a girl if she thinks they will get married. A reference is made to a woman having been pregnant.
Mature Subject Matter:
Family drama
Alcohol / Drug Use:
***
Reviewed By CindyB