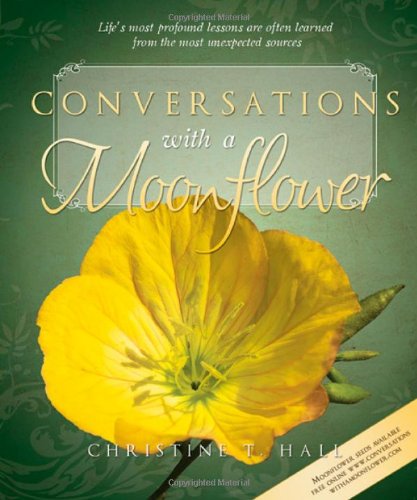 Publisher's Note:
It all begins with a little flower. This tenderly told story is a beautiful reminder to appreciate the simple joys around you. The perfect gift for even the busiest mothers and friends in your life, this book is guaranteed to change chaos to calm and inspire all to look beyond the ordinary and see the extraordinary.
This book was sent to Compass Book Ratings for review by Cedar Fort
Conversations With a Moonflower
by Christine Hall
Overall Review:
If you are needing a reminder of your beauty and divine nature, take some time to have a conversation with a Moonflower! This unique way of conversing won't have quite the same meaning until you read this book, but by taking the time to read Converstations with a Moonflower by Christine T. Hall, we can each be reminded of these two great qualities! It just might inspire you to order your seeds and let this remarkable plant change your perspective on life. The author records multiple "conversations" and how each one changed her for the better, along with sharing her association and friendship with an Amish family. This is quick read, filled with uplifting messages, is sure to warm the heart of anyone willing to pause from their hectic life to read and reflect. The author even includes a website where you can receive free Moonflower seeds.
Content Analysis:
Conversations with a Moonflower is squeaky clean. It is nothing but sweet uplifting messages even children would enjoy. Although meant for adults, the messages in this book can be appreciated at any age.
Mature Subject Matter:
***
Alcohol / Drug Use:
***
Reviewed By SqueakyCleanReads