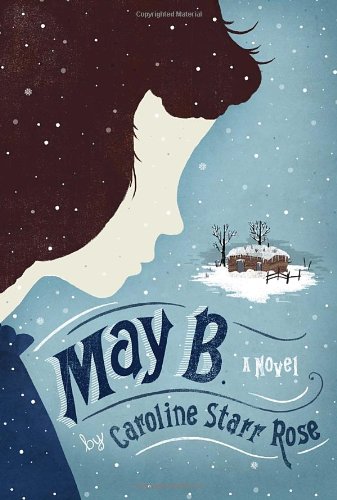 Publisher's Note:
I've known it since last night:
It's been too long to expect them to return.
Something's happened.

May is helping out on a neighbor's Kansas prairie homestead—just until Christmas, says Pa. She wants to contribute, but it's hard to be separated from her family by 15 long, unfamiliar miles. Then the unthinkable happens: May is abandoned. Trapped in a tiny snow-covered sod house, isolated from family and neighbors, May must prepare for the oncoming winter. While fighting to survive, May's memories of her struggles with reading at school come back to haunt her. But she's determined to find her way home again. Caroline Starr Rose's fast-paced novel, written in beautiful and riveting verse, gives readers a strong new heroine to love.
This book was sent to Compass Book Ratings for review by Random House
May B.
by Caroline Starr Rose
Overall Review:
An important tip: Don't read May B. late at night, by candlelight, while in the middle of the blackout. Such a setting makes May's lonely sojourn on the Kansas prairie—and the wolf that leaves its tracks around her soddy house—just a little too real. Eeriness aside, I loved the spare, powerful language of May B. While I felt that some things in the beginning were handled a little too abruptly and without enough weight to make them believable, on the whole, I enjoyed this quick read with its spunky, unique heroine. I was particularly interested in the thought-provoking portrayal of a dyslexic girl before dyslexia was recognized; I ached with May as she related her frustrations about her failed schooling, and cheered for her in her triumphant end. I wavered for awhile between 3 1/2 and 4 stars on this one, but ultimately decided that May B. deserves a four-star rating. I'm excited to see what Caroline Starr Rose writes next! This is a great book for fans of pioneer stories like Little House in the Big Woods.
Content Analysis:
Profanity/Language:
***
Violence/Gore: A boy is whipped for disobedience. A woman shoots a wolf. It is implied that a man has been devoured by wolves (no details are given).
Sex/Nudity: There is no real romance or flirtation in the book, but two characters are married and there is a mention of them sleeping in the same bed (the scene is completely non-sexual).
Mature Subject Matter:
Loneliness, being left to fend for oneself, harsh living conditions, learning disability.
Alcohol / Drug Use:
***
Reviewed By CindyB