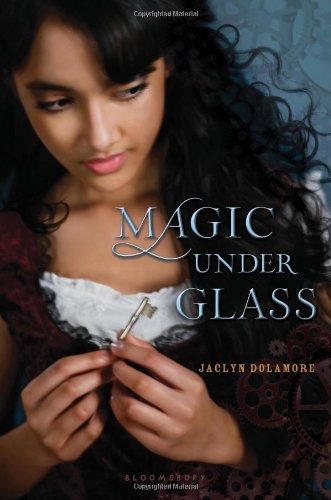 Publisher's Note:
Nimira is a foreign music-hall girl forced to dance for mere pennies. When wealthy sorcerer Hollin Parry hires her to sing with a piano-playing automaton, Nimira believes it is the start of a new and better life. In Parry's world, however, buried secrets are beginning to stir. Unsettling below-stairs rumors swirl about ghosts, a madwoman roaming the halls, and Parry's involvement with a league of sorcerers who torture fairies for sport. Then Nimira discovers the spirit of a fairy gentleman named Erris is trapped inside the clockwork automaton, waiting for someone to break his curse. The two fall into a love that seems hopeless, and breaking the curse becomes a race against time, as not just their love, but the fate of the entire magical world may be in peril.
Magic Under Glass
by Jaclyn Dolamore
Overall Review:
I wasn't sure how much I'd enjoy Magic Under Glass, after seeing some very mixed reviews. To my surprise, I was pulled in from the first page and absolutely loved immersing myself in Jaclyn Dolamore's lush fantasy world and terrific writing voice. The book did have its weaknesses; I found myself wishing that several parts of the story (especially the relationships) had been given a little more depth and nuance, and parts of the story seemed rushed. However, as a debut novel from a new author, I felt that the strengths outweighed the weaknesses. I loved Dolamore's dynamic and interesting characters, and was intrigued by the politics and magic of the world she had created. This is definitely an author I'll be watching closely from now on! Magic Under Glass is highly recommended to readers who love fantasy and good writing.
Content Analysis:
Profanity/Language: 14 religious exclamations. 7 mild profanities.
A note on the religious exclamations in this book: I sometimes had trouble deciding whether uses of the name "God" fell under the category of profanity or not in this book. In some instances, characters utter things like "Thank God," and I couldn't tell if it was meant to be an oath or a supplication. I did count all of them as religious exclamations, but keep in mind that not all fourteen were especially offensive.
Violence/Gore: A girl fears kidnapping. A drunk man accosts a woman. References are made to the assasination of a politcal figure. Threats are made against a magical being. A woman is kept tied up and imprisoned, and hurt by magic in some way (how she is hurt is not explained). A girl is threatened by dark spirits. A reference is made to a woman being attacked by bandits. A man is kidnapped and enchanted by enemies.
Sex/Nudity: On several (about fifteen) instances, characters flirt gently, touch each others' hands or faces, or kiss. A woman says that her friend "lies with a man." A girl asks a man if he is "looking at her bosom." A passing reference is made to a character's father having had an affair.
Mature Subject Matter:
Corrupt government, assassination, enchantment
Alcohol / Drug Use:
Adults smoke. A man is described as drunk.
Reviewed By CindyB