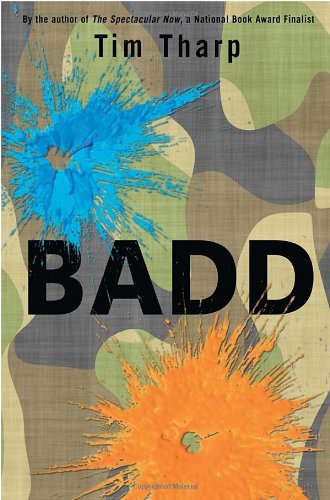 Publisher's Note:
Ceejay has never been pretty or popular, but she knows who she is: she's younger sister to Bobby, the most charming bad boy in town. Bobby's a bit wild, but with his big heart and sense of fun, everybody loves him. And nobody understands Ceejay like Bobby.


Now, Ceejay can't wait for Bobby to return home from his tour in Iraq. But then he turns up unannounced and seems to be avoiding his family. And he's so different. His wild streak has become reckless. His sense of fun has become desperate. And seeing this, Ceejay's own tough shell begins to crack. How can she believe in being strong when her hero is broken?


As she tries to get Bobby back, Ceejay begins to reexamine her family, her community, and everyone in her life. What she finds is that true strength is not quite what she thought it was.
This book was sent to Compass Book Ratings for review by Random House Children's Books
Badd
by Tim Tharp
Overall Review:
War, PTSD, and mental illness are heavy topics, and this book does not treat them lightly; however, the story is redemptive, hopeful, and finds the characters drawing strength from family and the right kinds of friends as they work to support one another through difficult times.
I expect that any young person with a family member struggling with PTSD or mental illness, whether diagnosed or not, could find hope from this story. I loved that the characters who thought they were the most resilient and tough were able to reach inside and find something stronger in expressions of love and healthy communication.
The fact that so many of the troubled characters regularly self-medicated with drugs and alcohol is certainly disturbing, but is also realistic in situations where life can't be dealt with. I was thrilled to see that those that were able to face their problems in the right way were able to put aside the habits that were dragging them down.
It's tempting to feel a bit apologetic for the content in this book, but with all the characters go through, it's honestly surprising that it wasn't worse. I genuinely liked the protagonist, and although her story was difficult to read, I was very happy for her and her family in the end.
Content Analysis:
Profanity/Language: 45 religious exclamations; 38 mild obscenities; 17 religious profanities; 16 derogatory names; 27 scatological words; 48 anatomical terms; 8 f-word derivatives.
Violence/Gore: A character describes violent acts she'd like to commit; a character threatens suicide; a character threatens to run over another character with his car; war atrocities are briefly described; two characters fistfight; several car accidents with minor injuries take place; an adult slaps a child; six people engage in a brawl with no injuries; three characters vandalize a house; a character briefly relates the story of his friend's suicide.
Sex/Nudity: Characters kiss briefly; characters kiss passionately; a character wears provocative clothing and attempts to seduce another character; a character's swimsuit top comes off while diving; an elderly man is seen bathing; a character makes crude insinuations; several couples reportedly engage in sexual activity; several characters are unfaithful to girlfriends, boyfriends, or spouses; a character visits a strip club with no details.
Mature Subject Matter:
Mental illness; car theft; abortion; war; death of a family member; couples live together outside of marriage.
Alcohol / Drug Use:
Drug and alcohol abuse is extensive throughout; several characters drive while under the influence of drugs and/or alcohol; several underage characters drink and use drugs.
Reviewed By Leslie