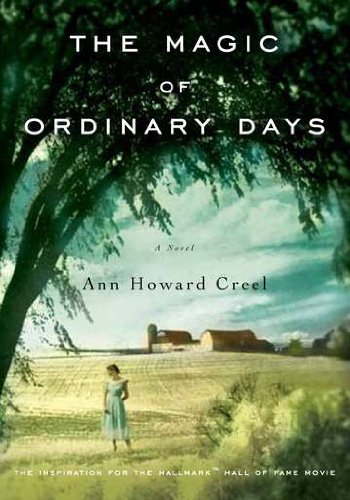 Publisher's Note:
The powerful story of one woman's passion in a world at war.
Olivia Dunne, a studious minister's daughter who dreams of becoming an archaeologist, never thought that the drama of World War II would affect her quiet life in Denver. But when an exhilarating flirtation reshapes her life, she finds herself in a rural Colorado outpost, married to a man she hardly knows. Overwhelmed by loneliness, Olivia tentatively tries to establish a new life, finding muchneeded friendship and solace in two Japanese American sisters who are living at a nearby internment camp. When Olivia unwittingly becomes an accomplice to a crime and is faced with betrayal, she finally confronts her own yearnings and comes to understand what she truly believes about the nature of trust and love.
The Magic of Ordinary Days
by Ann Howard Creel
Overall Review:
The Magic of Ordinary Days is a simple, yet beautiful story about finding love in unlikely places. Though it is 1944 and war is raging, Livvy is determined to finish her graduate degree. Mysteriously, she abandons her schoolwork and travels to rural Colorado to marry a man she has never met before. Livvy's reasons for agreeing to an arranged marriage unravel slowly and I couldn't turn the pages fast enough to find out why. The awkward exchanges and timid conversations between Livvy and Ray were heart-wrenching and I found myself desperately hoping the characters could let go of the past and find happiness again.
The author's writing was beautifully descriptive and made me feel like I, too, was living on the Colorado countryside. I really enjoyed the historical perspective of America during World War II and appreciated the glimpse into life in Japanese-American interment camps. This book left me sighing with contentment when I finished the last page. I recommend it for a lazy summer afternoon.
Content Analysis:
Profanity/Language: ***
Violence/Gore: As the book takes place during World War II, there is mention of battles and concentration camps, but these are not graphically detailed.
Sex/Nudity: There is a few incidents of kissing between characters and a mention of virginity. An incidence of sexual activity without explicit detail between a married couple occurs. There is a explicit/detailed description of sex between an unmarried couple that results in a pregnancy out of wedlock.
Mature Subject Matter:
Death, war, Japanese-American interment camps.
Alcohol / Drug Use:
A few characters drink.
Reviewed By Rachel