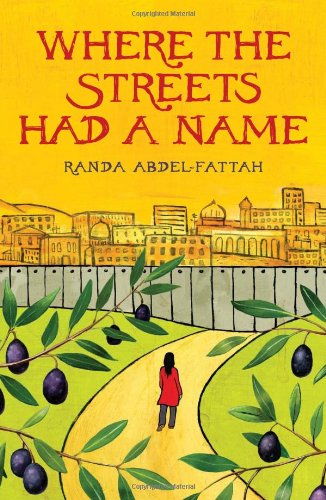 Publisher's Note:
Critically acclaimed author Randa Abdel-Fattah's middle-grade debut about the journey -- and risks -- a Palestinian girl will take to save her family.

Thirteen year old Hayaat is on a mission. She believes a handful of soil from her grandmother's ancestral home in Jerusalem will save her beloved Sitti Zeynab's life. The only problem is that Hayaat and her family live behind the impenetrable wall that divides the West Bank, and they're on the wrong side of check points, curfews, and the travel permit system. Plus, Hayaat's best friend Samy always manages to attract trouble. But luck is on the pair's side as they undertake the journey to Jerusalem from the Palestinian Territories when Hayaat and Samy have a curfew-free day to travel.
This book was sent to Compass Book Ratings for review by Scholastic
Where The Streets Had A Name
by Randa Abdel-Fattah
Overall Review:
I always enjoy a book that gives a good look at a culture that I'm not familiar with, and Where The Streets Had A Name certainly delivered! A sweet, meaningful story about a girl growing up in the midst of the Israeli/Palestinian conflict, this book gave me new insight into the complicated issues and feelings on all sides of this famous tension. Although at times I felt like the pace of the story lagged a little bit, overall, I enjoyed the book very much. The characters were well-drawn and relatable, and the descriptions of Bethlehem and Jerusalem were wonderful. Recommended for kids and adults who want a thoughtful, insightful look into one of today's biggest news stories.
Content Analysis:
Profanity/Language: 19 religious exclamations.
A note on the profanity in this book: The characters are very religious and often call upon the name of God in prayer or supplication in the context of their regular conversation. Because most of these were not intended in casual or disrespectful ways, most were not tallied as "religious exclamations"; only counted were the instances that seemed to be used more like a typical religious exclamation, with casualness or disrespect.
Violence/Gore: A story is told about a girl falling from a window. Children wrestle on two occasions. A story is told about a child's father being arrested. A story is told about a man being killed by a bulldozer (there is no gore, but the story of the death itself is a little gruesome). A reference is made to a person dying in a Nazi concentration camp. Small children pinch each other. A soldier slaps a man. A story is told about a hunter wounding and killing birds. A reference is made to war violence. A story is told about a young girl being shot in the head; it is mentioned that she dies lying in a pool of blood (the story/memory is quite intense, particularly for young children). A girl is cut by glass; blood is mentioned. Houses are destroyed. A boy breaks a car window.
Sex/Nudity: A secondary character gets married.
Mature Subject Matter:
War, racial tensions, government oppression, war crimes, disfigurement, death.
Alcohol / Drug Use:
Several adult characters smoke cigarettes or pipes quite often throughout the book.
Reviewed By CindyB